Posted on
Mon, Mar 26, 2012 : 9:21 p.m.
David Wohlberg off to the pros, Greg Pateryn finishing school, other Michigan hockey seniors to test waters
By Pete Cunningham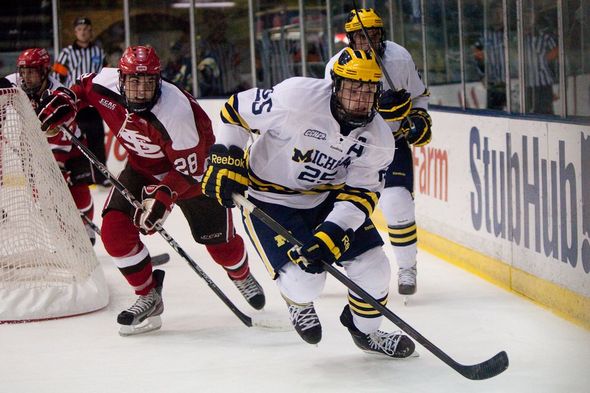 David Wohlberg
's college hockey career
ended on Friday
. By Monday the former
Michigan hockey
forward's professional career had begun.
Wohlberg signed an amateur tryout contract (ATO) with the Albany Devils, the New Jersey Devils' American Hockey League affiliate. Wohlberg left Monday for Albany.
ATOs are a cheap way for teams to retain players' rights without using up a year of a three-year, entry-level deal. Reports indicate New Jersey intends to sign Wohlberg over the summer. New Jersey drafted Wohlberg in the sixth round (172nd overall) of the 2008 NHL draft.
Wohlberg had 33 points (16 goals, 17 assists) this season, the most since his first year with the team when he was CCHA rookie of the year.
Defenseman Greg Pateryn, who was drafted in 2008 by the Toronto Maple Leafs, opted not to take a similar deal with the Montreal Canadiens, who traded for his rights. Pateryn will stay in Ann Arbor in order to graduate school rather than playing out the AHL season with the Canadiens' AHL affiliate Hamilton Bulldogs. Pateryn said in order to graduate on time he needed to finish some courses only offered in the winter term, which ends in April.
"I'm just going to graduate, figure out my contract deals sometime soon," said Pateryn. "School's first. ... I'll be good. Show up to camp, have a good summer and everything will take care of itself."
Michigan's other two graduating seniors, goaltender Shawn Hunwick and forward Luke Glendening, both said they're exploring the option of lower-level pro deals. Hunwick is looking into playing in Europe as well as the East Coast Hockey League.
"I've definitely got the personality where I'd be able to live away from my family for so long and be OK," Hunwick said of possibly playing overseas. "It's all about getting the right opportunity and being in the right city. I've definitely heard some good things (from former teammates), but then like Hogey (Bryan Hogan) started out over there and didn't like it and came back. ... There's definitely some opportunities on the horizon, we'll see what happens."
Glendening, who like Hunwick was never drafted, said he will try to make a professional team, but is content if he's played his last game of competitive hockey. Glendening said Michigan coach Red Berenson has always stressed not to be a "hockey bum."
"If it's just playing glorified men's league, I'm OK with being done. I have other aspirations, not just hockey, that's just one," Glendening said. "I want to play hockey, that's what I love to do, but if I were coaching somewhere or something else, that'd be alright too."
"Some coach, if he knows what he's doing, he'll say (Glendening) has got something special," Berenson said. "If it doesn't work out he's got a good head on his shoulders and he'll get out of the game. He won't be a career East Coast League player."
Berenson left Michigan after his junior season to sign a deal with the Canadiens. He said he only did so after telling management he wouldn't leave to be a minor league player and tells his players to set similar limitations for themselves.
"I think they should give it a shot, but I think they should do it on their own terms. ... You don't want to play in the (ECHL) for five years," Berenson said. "Hunwick, I wouldn't blame him if he never played again, what's he going to prove after now? And yet if he does play, he might prove that he can play in the NHL, who knows? He wouldn't be out of place tonight if he played somewhere."
Hunwick's older brother, Matt Hunwick, said the two have had discussions about pro hockey and sees him trying to make it as far as he can.
"I think he wants to play pro hockey in some respect, whether that's here in North America or over in Europe. I mean why stop now?" said Matt Hunwick, a defenseman with the Colorado Avalanche. "At this point, as a third-string goalie it looked like he wasn't even going to be able to play (at Michigan). Might as well go out and give it your best shot."
Contact Pete Cunningham at petercunningham@annarbor.com or by phone at 734-623-2561. Follow him on Twitter @petcunningham.