Posted on
Sat, Feb 11, 2012 : 8:18 p.m.
Eastern Michigan basketball tops Ohio, takes two-game lead in MAC West
By AnnArbor.com Staff
Ten minutes of shutout defense allowed the Eastern Michigan basketball team to take an early lead on Saturday.
An efficient offense sealed the deal for the Eagles.
Junior guard Derek Thompson scored a season-high 23 points in just 18 minutes of action to lead Eastern Michigan to a 68-55 Mid-American Conference crossover win against Ohio at the Convocation Center.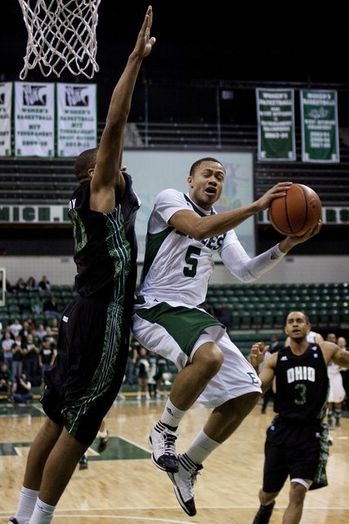 Jeffrey Smith | for AnnArbor.com
With second-place Western Michigan and Ball State both losing Saturday, the Eagles (11-14, 6-5) now have a two-game lead in the MAC West standings. WMU and Ball State both fell to 4-7.
Thompson's stat line (6-of-9 shooting, 3-of-4 from 3-point range, 8-of-10 free throws) was representative of the Eagles' night.
Although it committed 19 turnovers, Eastern Michigan made 50 percent (18-of-36) of its shots from the floor and 67 percent (8-of-12) of its 3-point attempts while snapping a three-game losing streak.
The visiting Bobcats (19-6, 7-4 MAC East), on the other hand, had to be wondering when they'd score at all.
Ohio was scoreless for the first 10 minutes of the game, starting 0-for-11 from the floor with four turnovers. Walter Offut finally got the Bobcats on the scoreboard with 9:50 left in the first half. His layup cut EMU's lead to 9-2.
Facing an Eastern Michigan defense that ranks second in the MAC and 25th nationally in scoring defense (59.8 ppg), Ohio didn't reach double-figure scoring totals (14-10) until there was 6:31 left in the half and trailed 27-17 at halftime.
The Bobcats more than doubled their scoring in the second half, but never led. Eastern Michigan's advantage was between 7 to 9 points for most of the half. The final 13-point margin was the Eagles' largest of the game.
More coverage: Photo gallery | Boxscore | James scores 40 in EMU women's win
Senior guard Antonio Green added 13 points and junior forward Jamell Harris contributed 12 points -- including the first 3-pointer of his career -- and seven rebounds for the Eagles.
EMU leading scorer Darrell Lampley had the Eagles' worst shooting performance (3-of-9 for 9 points) but did dole out a game-high nine assists.
D.J. Cooper scored 15 points and Reggie Keely 14 for Ohio.