Posted on
Mon, Mar 26, 2012 : 2:56 p.m.
Eastern Michigan football team focused on rebuilding defense, QB battle open in spring practice
By Michael Florek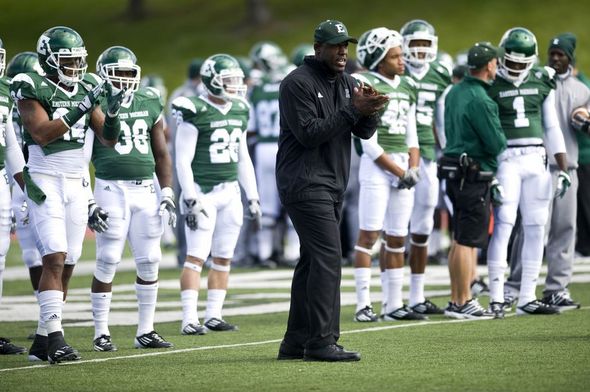 Joseph Tobianski | AnnArbor.com
None of the players on the current Eastern Michigan football team were born. Tight ends coach Tom Burpee was 5 years old. Running backs coach Mike Hart just 1.
In early December 1987, the Eagles played in the California Bowl, beating San Jose State. Twenty-five years later, it remains Eastern's last bowl appearance.
After a 6-6 record last year, the program's most wins in a season since 1995, the Eagles began spring practice with their best chance to end the quarter-century bowl drought.
Eastern lost just two starters off of its offense, but will have to rebuild a defense that led the turnaround. The defensive unit, which ranked 34th nationally in yards allowed, lost six starters.
EMU SPRING GAME

The Eastern Michigan football team will hold its Green-White game at 2 p.m. Sunday, April 15 at Rynearson Stadium. Admission is free.
An athletic department garage sale will be held at noon and players and coaches will be available on the field for autographs and photographs after the event.
Nearly halfway through spring camp, Eastern coach Ron English, a former defensive coordinator, has honed in on his specialty, focusing on finding successors for his two departed safeties and three defensive linemen.
"We've transitioned well, we've recruited well," English said. "We're just young and inexperienced."
English brought in six defensive linemen in this year's recruiting class to replace second-team All-MAC performer Brad Ohrman, nose tackle Brandon Slater and defensive tackle Jabar Westerman. Two of them, Cy Maughmer and Travis Linser, are junior college transfers that enrolled in time to participate in spring practice.
Maughmer was rated the 77th-best defensive lineman in the nation by Rivals.com coming out of Apache Valley High School in Arizona. He spent one season at Glendale Community College while Linser played at Phoenix Community College.
With the duo in camp, along with defensive end Devin Henderson, a junior college transfer last year who sat out the season due to academic issues, the departing defensive linemen's impact lessens.
"Defensive line wise, we'll be just fine," English said. "Cy Maughmer is going to be stout. He really is. Travis Linser is really a freshman. This is his second semester in college … so he's a little more raw, a little more youthful, but I think Cy is going to be really stout and really help us in there.
"(Henderson) is in camp now and he's going to be a good football player like we thought he would be. "
The two safety positions are the more pressing concern. With it being early in spring ball, English refused to name possible candidates to fill the voids.
On the other side of the ball, English called the offense "a little bit ahead." But losing just two contributors doesn't necessarily mean everything will be the same.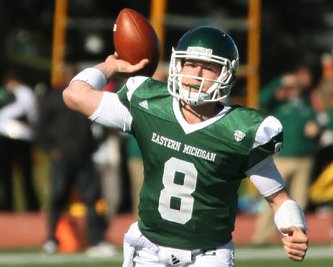 Jeff Sainlar | AnnArbor.com
Senior quarterback Alex Gillett has played in 33 games in his career and threw for 1,504 yards and 14 touchdowns with seven interceptions last season while leading the team in rushing with 918 yards.
Redshirt sophomore Tyler Benz threw just two passes this year while redshirt freshman Mark Iannotti hasn't played a collegiate game.
Yet English, wasn't ready to give the keys to the offense back to Gillett.
"We kind of told him we're going to open this thing up for a competition," English said. "We're going to let him compete with the other guys on the roster and see who performs the best thing spring and make a decision there.
"Obviously Alex has the advantage because he's played a lot of football here."
For now, the defensive-minded English will leave most of that evaluation up to the offensive coaches. He has more pressing concerns.
"They all look the same to me," he said of the quarterbacks. "I'm over there coaching the safeties right now, so I can't think about anything but that."
Michael Florek covers sports for AnnArbor.com. Contact him at michaelflorek@annarbor.com.