Posted on
Mon, Mar 5, 2012 : 4:27 p.m.
EMU's Rob Murphy named Mid-American Conference basketball Coach of the Year
By Rich Rezler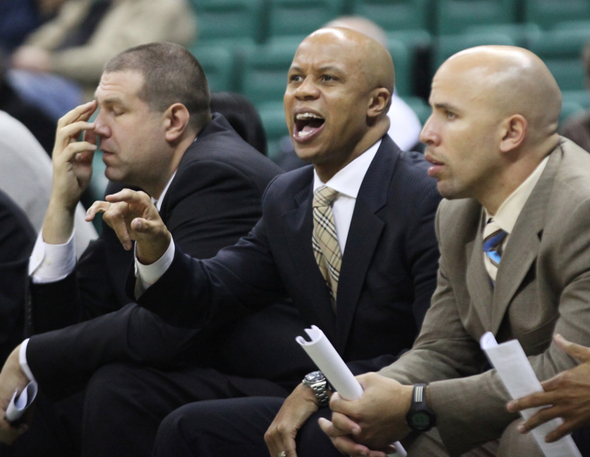 Jeff Sainlar I AnnArbor.com
The list of first-year accomplishments keeps growing for Eastern Michigan basketball coach Rob Murphy.
Murphy was named the Mid-American Conference Coach of the Year on Monday after leading the Eagles to their first MAC West Division title.
The Eagles host Northern Illinois in a MAC Tournament first round game at 7 p.m. Monday at the Convocation Center.
"It's humbling for me to be honored as the MAC Coach of the Year," Murphy said in a statement. "I credit my staff for their daily commitment and preparation in all areas of our program as we continue to lay our foundation."
"I thank (Syracuse coach) Jim Boeheim and (former Kent State coach) Jim Christian for the opportunity they gave me along with the knowledge I learned the previous nine years as part of their coaching staffs."
Murphy was named EMU's coach in April 2011 after serving as an assistant coach at Syracuse (2004-2011) and Kent State (2002-2004)
An Eastern Michigan coach hasn't won the award since Ben Braun did so in 1995-96. Braun, now the head coach at Rice, also won the award in 1987-88 and 1999-91 seasons.
The winner is determined by the 24-member MAC News Media Association panel. Murphy received 12 votes to edge Akron's Keith Dambrot (10 votes). Buffalo's Reggie Witherspoon received two votes.
Murphy is just the fourth coach to earn the honor in his first year as the head coach of a program. He's also one of four MAC coaches to lead his team to a division title since the conference split into divisions before the 1997-98 season.
The Eagles were picked to finish in last place this preseason.
"We were excited to hire Rob Murphy last April to lead our men's basketball program into the future," EMU athletic director Derrick Gragg said. "That confidence was rewarded much quicker than we had anticipated and Rob proved his outstanding coaching ability after leading a team that was picked last in the division in the preseason to a Mid-American Conference West Division title.
"We are pleased with the success this season and are looking forward with great anticipation to the next few years in men's basketball."
The league also announced Buffalo's Mitchell Watt as its Player of the Year on Monday.
Watt received 11 votes from the 24-member panel. Other players receiving votes included Miami's Julian Mavunga (8), Toledo's Rian Pearson (3) and Ohio's D.J. Cooper (2).