Posted on
Mon, Jun 25, 2012 : 11:32 p.m.
Former EMU high jumper Jamie Nieto headed back to Olympic Games
By Rich Rezler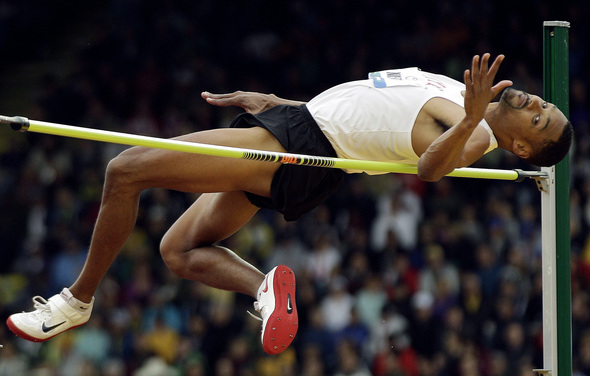 Associated Press
The Olympic Games have been a series a near misses for former Eastern Michigan high jumper Jamie Nieto.
On Monday night, he earned himself another chance.
Nieto won the men's high jump title at the U.S. Olympic Track and Field Trials in Eugene, Ore., with a leap of 7-feet, 5 3/4 inches to secure a spot at the London Games.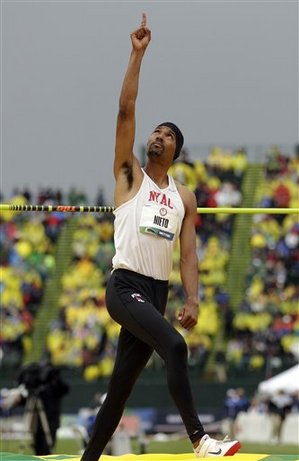 Associated Press
A 1999 EMU graduate and 2012 inductee into the school's athletic hall of fame, Nieto just missed a medal at the 2004 Olympic Games. Sweden's Stefan Holm took over first place on his final jump, pushing Nieto into a third-place tie at 7-feet-8. Jaroslav Baba of the Czech Republic won the bronze medal, however, because he had fewer misses.
In 2008, Nieto finished second at the Olympic Trials but did not make the team because he had not reached the the Olympic "A" standard. He cleared the standard after the deadline, but his appeal was declined.
At the age of 35, Nieto wrapped up the "A" standard height at the New York City Adidas Meet on June 9. At that time, he told the New York Times that 2012 would be his final year of competition.
"It's been a long time coming," he told the newspaper. "I thought the best place to retire would be at the Olympic Games in the final and that's my goal and God willing, that's what will happen."
According to EMUEagles.com, Nieto still holds the EMU men's track indoor high jump record of 7-feet-6 inches and the outdoor mark of 7-4.75 inches.
Nieto joins another former EMU track and field standout, Eric Alejandro, in this summer's Olympics. Alejandro will run the 400-meter hurdles for Puerto Rican.