Posted on
Fri, Sep 30, 2011 : 7:06 p.m.
From helpless to healthy, Michigan hockey player David Wohlberg ready to make up for lost time
By Nick Baumgardner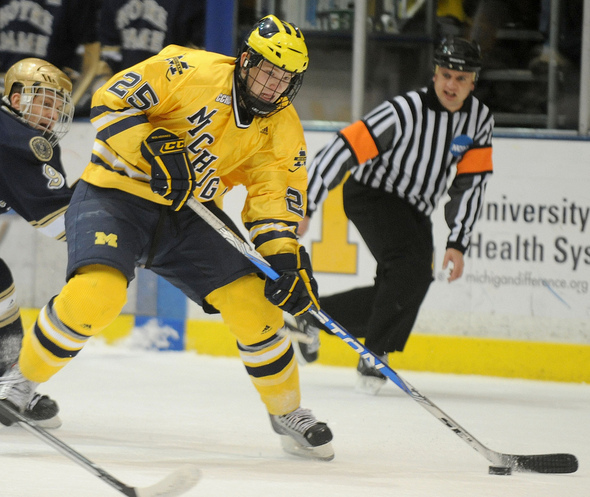 AnnArbor.com file photo
It's a moment
David Wohlberg
describes as one of the more difficult things he's ever had to go through.
And he barely even saw it.
"I probably spent more time with my eyes in my hands than I did watching the game," Wohlberg recalls.
With his Michigan hockey teammates firmly planted in the battle of their lives, Wohlberg, who missed the final seven games of the 2010-11 season with a displaced collarbone, was forced to sit and watch the Wolverines lose the national championship in heartbreaking fashion.
MICHIGAN HOCKEY 2011-12
EXHIBITIONS:
Saturday
vs. Ontario Institute of Technology, 7:35 p.m. (Yost)
Monday, Oct. 3
vs. U.S. National Team Development Program U18, 7:35 p.m. (Yost)
REGULAR SEASON OPENER:
Tuesday, Oct. 4 vs. Niagara, 7:35 p.m. (Yost)

Rather than crashing the net for the game-winner, Wohlberg looked on in street clothes as
Minnesota-Duluth notched the overtime victory at Xcel Energy Center in St. Paul, Minn., last April.
"No one wants to go to the Frozen Four and the national championship game and watch from the stands," Michigan senior goalie Shawn Hunwick said. "When that last goal went in the net, there's nothing Dave Wohlberg could do about it.
"He's hungry to go out and have a good season."
Now at full strength, Wohlberg will make his return to the ice at 7:35 p.m. Saturday when Michigan opens its 2011-12 season with an exhibition against the University of Ontario Institute of Technology at Yost Ice Arena.
Wohlberg, a South Lyon native and Pioneer High School product, finished as the Wolverines' second-leading goal scorer a season ago (15 goals) despite his late-season absence.
"Getting him back in is huge," Hunwick said. "He's our leading man up front and he's someone everyone should be following.
"He plays with an edge. He's physical, he's mean, he's pretty much everything we need up front."
As an alternate captain and one of just four seniors on the 2011-12 roster, Wohlberg's leadership may be just as important as his scoring touch this season. Michigan will welcome in eight freshmen and look for a way to replace the eight seniors that departed from last year's national runner-up squad.
And though he may not have realized it at the time, Wohlberg's impact on this season's team started in April.
With him watching from the stands.
"He took (the injury) like a man, he was a man about it," Michigan senior captain Luke Glendening said. "He went about his business and was at the games, cheering for us, was in the locker room in between periods.
"That said a lot more about him than his play (ever did)."
Wohlberg says he doesn't have any individual goals to speak of this season, he just wants to do as much as he can to help Michigan get back to where it was a season ago.
"I just want to help the team out more than I did last year," he said. "Period."
Healthy and primed for his senior season, Wohlberg's eyes are out of his hands and are focused on the ice. He doesn't own a time machine, and he'll never know what he might have been able to do with a healthy collarbone last April.
But he's fine with that. He's got one more winter left in Yost, and he intends on making the most of it.
"I would've loved to play in that situation, but I didn't get to," he says. "And that just gives me more drive to do it now.
"We want to get back to the Frozen Four, and win a national championship."
Nick Baumgardner covers Michigan sports for AnnArbor.com. He can be reached at 734-623-2514, by email at nickbaumgardner@annarbor.com and followed on Twitter @nickbaumgardner.