Posted on
Sat, Jan 8, 2011 : 6:30 p.m.
Guinness Book of Records puts official Big Chill at The Big House attendance at 104,173
By Jeff Arnold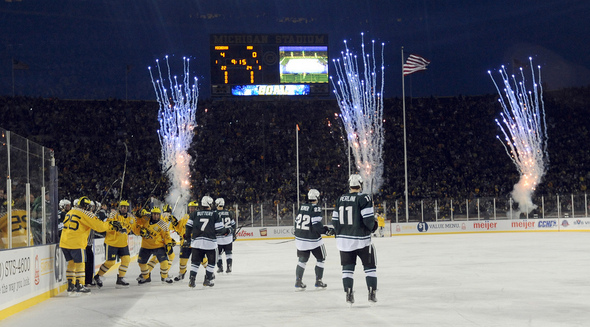 Lon Horwedel | AnnArbor.com
In the weeks following The Big Chill At The Big House, this much was true: The second outdoor meeting between the Michigan hockey team and rival Michigan State was played before a world record crowd.
The only question left to be answered was exactly how many people witnessed it.
Guinness World Records has set the new attendance mark at 104,173, Michigan officials confirmed Saturday. The mark shatters the former record of 77,803 set at last year's International Ice Hockey Federation world championships in Germany by more than 26,200 fans.
The final mark was in stark contrast to the first two numbers linked to the game, a 5-0 Michigan victory, last month that university officials announced was played in front of a stadium record 113,411.
Weeks later, though, Guinness said it would initially work off the number 85,451 based on tickets actually scanned the day of the game. The London-based records company said the attendance mark represented tickets scanned through the second period of the game and that a final tally would be announced at a later date.
The initial number was determined by the number of ticket scans that had been calculated by the middle of the second period, according to Guinness adjudicator Mike Janela, who was present at the event.
"That number was continuing to climb by the minute as the backlog of scans was getting tracked by their digital ticketing system," Janela wrote in an e-mail to AnnArbor.com. "In order to make the announcement on time during the game, we had to just go with the existing number at that point."
Michigan officials based its number on the NCAA-accepted measure that goes by tickets sold and that includes media and other non-ticketed people who attended the game.
Michigan hockey spokesman Matt Trevor said Saturday that university officials reviewed photos and scans of the crowd to help provide Guinness officials a true idea of what the crowd size was.
The official attendance was announced during the Big Ten Network's broadcast of Friday night's 4-3 Michigan State overtime victory over Michigan in East Lansing.
Jeff Arnold covers Michigan hockey for AnnArbor.com and can be reached at (734) 623-2554 or by e-mail at jeffarnold@annarbor.com. Follow him on Twitter @jeffreyparnold.