Posted on
Mon, Mar 5, 2012 : 11:16 a.m.
What to watch for when boys basketball district tournaments start tonight
By Pete Cunningham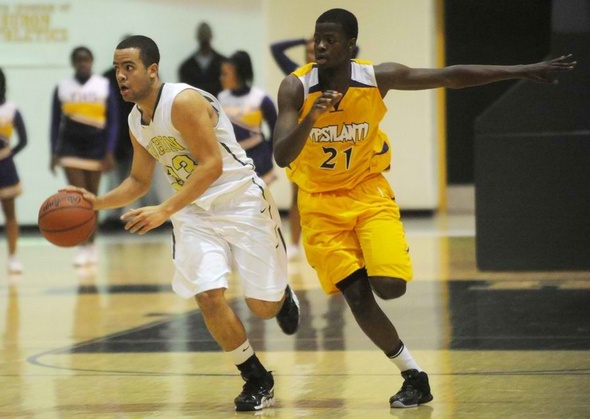 Chris Asadian | AnnArbor.com
Last week, the MHSAA girls basketball playoffs got underway. This week, the boys take get their shot at the postseason with district tournaments set to begin on Monday.
Southeastern Conference Red and White division champions Huron and Ypsilanti got a nice tuneup for the postseason when they played each other on Thursday. Will both be able to repeat as district champions, or will Milan and Pioneer have something to say about that?
Will the absence of Washtenaw County's leading scorer, Andrew Khouri, doom Greenhills? And will the beating Father Gabriel Richard took against the big boys in the Catholic League's Central Division pay dividends, like it did last year?
Find out in previews of each district involving a Washtenaw County team, and join the conversation by voting for who you think will win.
CLASS A

AT PIONEER HIGH SCHOOL
(
Bracket
)
Monday: Dexter (9-11) vs. Brighton (4-14), 5:30 p.m.; Huron (14-6) vs. Skyline (10-10), 7:30 p.m.
Wednesday: Pioneer (14-6) vs. Dexter/Brighton winner, 5:30 p.m.; Pinckney (12-8) vs. Huron/Skyline winner, 7:30 p.m.
Friday: Final, 7:30 p.m.
Breakdown: As was the case last season, cross-town and league rivals Huron and Pioneer are the best teams in this district. Fortunately, they're actually on opposite sides of the bracket this year, so they could play in the final.
The teams split their regular season series, with the home team winning each game, which is good news for the district host Pioneers. The bad news is Pioneer didn't play its best basketball at the end of the season, playing themselves out of the SEC Red Division title race with back-to-back losses to Skyline and Temperance Bedford.
Home court advantage might not be that advantageous against Huron, which is vying for its fourth straight title. Besides the fact that the schools' gyms are practically neutral sites when the teams meet, Huron has shown to be just as comfortable on the road as at home down the stretch, clinching the Red Division title at Bedford and handing the Kicking Mules their first home loss of the season.
Despite winning its final two games of the season, Pioneer coach Rex Stanczak wasn't convinced his team was out of its funk, but believed that had to do with the disappointment of not contending for a league title. He believes putting the conference season behind them and refocusing on the goal of a district title will jump start his team back to their midseason form.
Prediction: Huron.

CLASS A

AT MILAN HIGH SCHOOL
(
Bracket
)
Monday: Saline (8-12) vs. Lincoln (10-10), 6 p.m.; Monroe (5-15) vs. Temperance Bedford (15-5), 8 p.m.
Wednesday: Ypsilanti (16-3) vs. Saline/Lincoln winner, 6 p.m.; Milan (18-2) vs. Bedford/Monroe winner, 8 p.m.
Friday: Final, 7 p.m.
Breakdown: This is Ypsilanti's district to lose. The Phoenix are one of the more talented teams in the state, especially on the defensive end. Derrick Richardson is a lockdown defender and with multiple players over 6-foot-7 in the post, no team in this district can hang with Ypsilanti on the boards.
Tristan Simmons, with his 17.2 points and 5.9 rebounds per night, is the Phoenix's obvious leader on the offensive end. If Derrick Richardson can keep up the 14.3-points per night he averaged over Ypsilanti's final six games of the season, teams will be hard pressed to slow down the tandem.
It's a shame that this is the year Milan had to move up to Class A, because the Big Reds would be a force to be reckoned with in the Class B postseason. Milan's 18 regular season wins is the most since 1980-81 and its Huron League title is the first in the school's 11 years in the conference and its first conference championship since winning the SEC in 1984. But one need look no further than Milan's 48-32 loss to Huron earlier in the year to see they're not quite at the level of top Class A teams yet.
Not that one game defines a team, but that one game is more of a barometer of the type of teams Milan will face the rest of the way compared to its Huron League schedule.
Andre Duffin (11 points per game) and C.J. Turnage (14 points per game) may be able to lead Milan over Bedford in the semifinals, but getting past Ypsilanti is a tall order, literally.
Prediction: Ypsilanti.

CLASS B

AT TECUMSEH HIGH SCHOOL
(
Bracket
)
Monday *Games not at host site*: Ida (4-16) at Chelsea (8-12), 7 p.m.; Father Gabriel Richard (6-14) at Adrian (10-10), 7 p.m.; Dundee (18-2) at Tecumseh (5-15), 7 p.m.
Wednesday: Chelsea/Ida winner vs. Adrian/Father Gabriel Richard winner, 5:30 p.m.; Onsted (15-5) vs. Tecumseh/Dundee winner, 7 p.m.
Friday: Final, 7 p.m.
Breakdown: Don't be fooled by Dundee and Onsted's impressive records. The best competition on the basketball courts of the Lenawee County Athletic Association happens when they're covered in wrestling mats.
For a point of reference, consider that Adrian handed the Vikings a 71-50 loss back in December. Or that Onsted -- which split its season series with Dundee -- lost 69-54 to Chelsea back in December.
The most intriguing team here will be Father Gabriel Richard, which last year came into districts with a similarly dismal record after getting destroyed in Catholic League play and made a run to a regional final. It's too bad the Irish, Adrian and Chelsea are all on the same side of the bracket because those may be the three best teams in the district.
Prediction: Adrian.

CLASS C

AT CLINTON HIGH SCHOOL
(
Bracket
)
Monday: Willow Run (8-12) vs. Clinton (11-9), 5:30 p.m.; Whitmore Lake (5-15) vs. Manchester (4-15).
Wednesday: Greenhills (12-8) vs. Willow Run/Clinton winner, 5:30 p.m.; Napoleon (9-11) vs. Whitmore Lake/Manchester winner, 7:30 p.m.
Friday: Final, 7 p.m.
Breakdown: Four different conferences -- Michigan-Metro Athletic, Tri-County, Cascades and Michigan Independent Athletic -- are represented by the six teams in this district. That's why I like it so much.
Granted none of the teams are the cream of the crop from their respective leagues, but it's still fun to see how teams from different conferences stack up against one another.
A week ago I might have gone out on a limb and picked Greenhills to win this district, but that was before Andrew Khouri and his 23.7 points per game were sidelined. Now I'm inclined to think whoever emerges from the first round game between Clinton and Willow Run may go on to win it all.
Prediction: Willow Run.

CLASS D

AT WASHTENAW CHRISTIAN ACADEMY
(
Bracket
)
Monday: Rudolf Steiner (9-10) vs. Calvary Christian (3-12), 7 p.m.
Wednesday: Washtenaw Christian (7-9) vs. Rudolf Steiner/Calvary Christian winner, 5 p.m.; Eastern Washtenaw Multicultural (5-7) vs. Central Academy (11-7), 7 p.m.
Friday: Final, 7 p.m.
Breakdown: Central Academy will be looking to win its second straight district title. The Falcons put up plenty of points (64.9 per game), so if they can manage to play some defense (they give up 55.9 per game) they should be able to do just that.
Central Academy has a tough first round matchup with Eastern Washtenaw Multicultural Academy, though. The Chargers found a way to limit Omar Hassan (16.6 points per game) and Mohammad Issa (13.4 ppg) to two and eight points, respectively, when the teams last met. Central still won, 40-27, but that game was just last Thursday.
It's never easy to beat a team twice, especially if that team has found a way to stop your two best players.
Prediction: Central Academy.