Posted on
Thu, Mar 8, 2012 : 10:28 p.m.
Huron girls basketball team wins first regional title since 1995
By Pete Cunningham
FARMINGTON - Huron High School freshman Kamala Glenn drove through the lane and was fouled hard as she threw up an underhand layup. The ball seemed frozen in time as it hung in the air, finally dropping through the basket as the referee's whistle blew.
Glenn completed a three-point play to put Huron up 44-34 on Hartland with just two minutes, 33 seconds left to play in a Class A regional final at Farmington High School. The Huron fans in attendance began to celebrate what seemed inevitable at that point.
But Huron athletic director Dottie Davis was curiously absent as the clock ticked down toward the River Rats' regional championship, no longer seated behind the bench where she had spent the entire game.
As the final buzzer went off in Huron's 48-40 victory, Davis reemerged with a stack of T-shirts that read, "SEC, District, Regional 2012 Champions."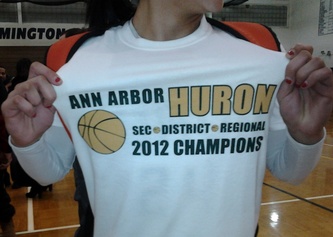 The players immediately threw the shirts on over their uniforms before accepting the school's first girls basketball regional championship trophy since 1995.
The River Rats (20-5) will play Saginaw Arthur Hill (17-7) in a state quarterfinal on Tuesday at Grand Blanc High School.
Davis had the shirts printed after Huron's semifinal win on Tuesday, and she didn't tell a soul. Especially not Huron coach Steve Vinson.
"She knows better than to do that because I'm superstitious," Vinson said with a smile after the game. "I'm glad she didn't tell me. I don't want to know."
More coverage: Boxscore | Class A Bracket
Davis said she's gone out on a limb and had shirts printed prematurely in the past that ended up being washrags for fundraiser car washes. The play of a couple of freshmen kept the shirts from the soap bucket on Thursday.
Freshman Payton Sims led Huron with 18 points on 6-of-7 shooting night from 3-point range. Trailing 8-5 in the first quarter, Sims hit her second of two threes in the quarter and Huron never trailed again.
It was just a week ago during district play that Sims saw a drop in playing time due to the play of Ariel Bethea. With Bethea out of the lineup on Thursday, it was Sims' time to shine.
GIRLS BASKETBALL REGIONAL FINALS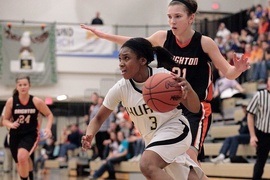 AnnArbor.com regional finals coverage:
"I just told her, look you'll get your opportunity, you just have to be ready," Vinson said. "I knew it was going to happen and tonight was the night that she happened to have her opportunity and she was ready for it."
Defensively, Huron's focus was stopping Hartland's primary ball handler, Bailee Maggert. Vinson rotated through four players to try to match the energy of Maggert, and no one was more effective than Glenn -- also a freshman.
"We were trying to make Maggert work to get the basketball. We wanted to physically make her as tired as possible and I think we did a little bit," Vinson said. "By the end of the game, she had to worked so hard her legs were not there a couple shots."
Glenn's only points came on the scoop-and-score in the fourth quarter. It was clear that her primary responsibility on the court was to deny Maggert the ball.
"I think (the defense on Maggert) disrupted (the offense) a lot," said Hartland coach Don Palmer. "We felt like they were going to try to get us to play faster than we wanted and that's how it kind of turned out."
Huron led 22-14 at the half, but back-to-back 3-pointers by Maggert to start the third quarter made it a game again. It ended up being the only quarter in which Hartland outscored Huron and ended tied 29-29.
Despite the surge, Palmer said he was concerned with Maggert and his team's energy going into the fourth quarter.
"I didn't know if we could sustain it. They exhausted us," Palmer said.
He was right.
Huron went on an 8-0 run to start the fourth, bookended by a pair of Sims 3-pointers -- the first one a bank shot -- and Hartland never was closer than five points again.
"I honestly didn't think that one was going in," Sims said with a smile. "Shooter's touch, I guess."
Maggert scored seven points for Hartland while Lindsey Pajot led the Eagles (21-4) in scoring with 13.
Contact Pete Cunningham at petercunningham@annarbor.com or by phone at 734-623-2561. Follow him on Twitter @petcunningham.