Posted on
Wed, Jan 11, 2012 : 11:05 a.m.
Athletes to Know: Pioneer bowler Katie Leite and Saline swimmer David Boland
By Pete Cunningham
This week's Athletes to Know features Pioneer bowler Katie Leite and Saline swimmer David Boland.
KATIE LEITE
School:
Pioneer.
Grade: Junior.
Sport: Bowling.
Accomplishment: Bowled an all-time high of 257 -- roughly 80 above her average -- against arguably Pioneer's toughest opponent of the season, Tecumseh, which won three consecutive Division 2 state championships from 2008-10 with a fourth place finish last season. Though Pioneer lost the match, Leite's individual performance -- she bowled a 176 in her other game -- earned her team two points in the 21-9 loss. "It was a really good meet compared to previous years," Leite said.
Other interests: Leite is also a catcher for the Pioneer softball team. She said bowling helps her with her throwing arm. She also tap dances.
Bowling with friends: Leite said most people are surprised to learn she bowls and have a different reaction once they play (and lose) against each other. "They usually don't like bowling with me afterward," Leite said with a laugh.
On her iPod: Favorite artists are Adele and Coldplay.
Favorite subject: Math.
Coach Rudy Bernard says: "She's kind of quiet, but she's a great leader. ... A very smart young lady."



DAVID BOLAND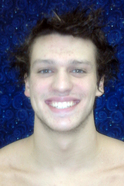 School:
Saline.
Grade: Junior.
Sport: Swimming.
Accomplishment: At a recent meet against Tecumseh, Boland won the 200-yard freestyle and swam a leg in the first place 200 free relay in Saline's convincing 139-47 win over the Indians. Boland is a two-time individual state champion in both the 200 individual medley and the 100 butterfly and also swam a leg on Saline's first place 200 medley and 400 freestyle relay teams. He has not lost an individual race all season.
Other interests: In addition to swimming, Boland also enjoys golf. Low 40s is a good nine-hole score for him, he says. He enjoys playing the piano in his leisure time. "I like to just jam out," Boland says.
On his iPod: Favorite genres are Christian rock, rock and Dubstep. Artist at the top of his playlist now is Skrillex.
Favorite class: Human physiology.
Favorite athletes: Olympic swimmers Ryan Lochte and Michael Phelps.
Does your school have an "Athlete to Know" walking the halls? Tell us why by sending nominations to prepsports@annarbor.com.