Posted on
Sun, Jan 23, 2011 : noon
Dexter mom, teacher, coach Katie Jazwinski adds Olympic Trials qualifier to resume
By Kaleb Roedel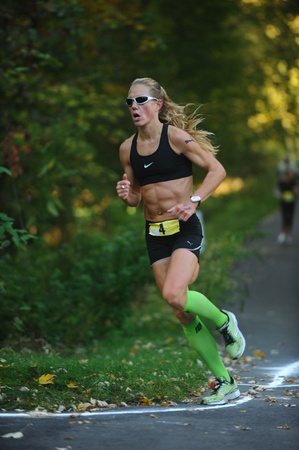 Photo Courtesy of Katie Jazwinski
It was a typical night for Katie Jazwinski.
The mother of two had eased her children, 3-year-old Jessie and 19-month-old Bobby, to sleep and was curled up in bed with her husband, Bob, in their Dexter home.
All was peaceful. Until Bob sprang awake and turned to his wife with an epiphany, that is.
"He said, 'Hey, I think you should try to qualify for the Olympic Trials in the marathon'," recalls Jazwinski. "I was like, 'What?'"
Sure, the 31-year-old Jazwinski was a five-time All-American in cross country and track at the University of Michigan and was named the Big Ten Female Athlete of the Year in 2002.
But, the Olympic Trials as a marathoner?
Jazwinski was busy enough as a mother; as a physical education teacher at Dexter Middle School; as Dexter's high school girls cross country coach and as the co-founder, along with her husband, of the JazzRunning organization, which hosts summer running camps for middle and high school kids.
Oh yeah, and there was this little detail: She had never completed a marathon.
Jazwinski couldn't deny her husband's instincts. Eventually her initial response of 'What?' turned into a sincere 'How?'
EIGHT MONTHS OF TRAINING
Barely a year removed from giving birth to her son, Jazwinski was already in good shape. Marathon shape, however, is a whole different level.
"(Bob) coached me, so he was pretty much the mind behind the machine. In the summer, I was running 100 miles a week for quite awhile," said Jazwinski, who embraced the extended daylight hours. "I really enjoyed the long-distance training and going out for the 3-hour run and feeling that sense of accomplishment."
But summers only last so long. Before Jazwinski knew it, her days were once again full of teaching, coaching and parenting. Adjustments had to be made to squeeze in the necessary training.
"Once school started in the fall, I really had to get up at five o'clock in the morning and get a long run in, go to teach all day long, go to practice for the high school, pick up my kids after that, and go out and train again.
"It was pretty grueling for that time period."
Bob, who teaches in Detroit, did his best to give his wife the training time she needed.
"He gave me the opportunity to train while he took care of the kids," said Jazwinski. "A lot of times Bob's parents would watch the kids while he trained me."
Eight months and countless hours of running later, Jazwinski's shot at an Olympic Trial-qualifying time arrived. It took place in her old stomping grounds of Grand Rapids, where Jazwinski graduated from West Catholic High School.
RACE DAY
Injury free, in top shape and highly motivated, Jazwinski said she felt totally prepared for the Metro Health Grand Rapids Marathon, held on Oct. 17.
She proved it.
Jazwinski was the first woman to cross the finish line. And her time of two hours, 44 minutes met the "B" standard qualifying time of 2:46 for the 2012 London Olympic Trials - and brought her husband's middle-of-the-night proclamation to fruition.
Bob rode his bike alongside his wife for a chunk of the race, showering Jazwinski with words of encouragement and pride.
"He kept saying to me, 'You're so strong,' and he kept telling me that he loved me, and to 'Think of your kids when you cross the finish line,'" said Jazwinski, tearing up. "It was all those positive things that kept me going. I just really appreciate all he had to endure, too. He's an amazing dad, husband and coach."
Bob was there at the finish line, where Katie collapsed into his arms with joyous tears.
"I was very proud when it was done. It was quite a huge accomplishment," Jazwinski said. "It was very painful, mentally and physically, but in the end, I got the time I was shooting for. It didn't matter how painful it was."
PREPPING FOR THE TRIALS
On Jan. 14, 2012, Jazwinski will run in the Olympic Trials marathon in Houston. Her qualifying time is the 82nd fastest out of 103 runners to qualify to date. The top three in Houston will make the 2012 London Olympic team.
Since her qualifying run in Grand Rapids, Jazwinski has slowed down her training pace - for her body and her sanity's sake.
"I took some time off. Time off for me is slowing down my running and exercising," said Jazwinski. "I had to let my body and mind recover and enjoy the holidays."
The Dexter coach said she plans to train for some "fast" 5Ks and increase her mileage. In the spring, Jazwinski may run another marathon.
"I'm getting in a pretty consistent (training) routine again, doing it after school," said Jazwinski, who has recently been sponsored by Brooks Running and Amway Nutrilite. "I use that as a stress release from a long day of middle school P.E. I'll enjoy a family dinner, and set that stupid alarm one more time.
"It's exhausting, but I'm such a busy person anyway that I kind of drive off that busy schedule. I don't think about it. I just do it."
Kaleb Roedel is a sports writer for AnnArbor.com. He can be reached at 734-623-2565 or e-mailed at prepsports@annarbor.com.