Posted on
Sun, Feb 12, 2012 : 5:30 a.m.
Dexter student section comes alive for German Geoff and more notes
By AnnArbor.com Staff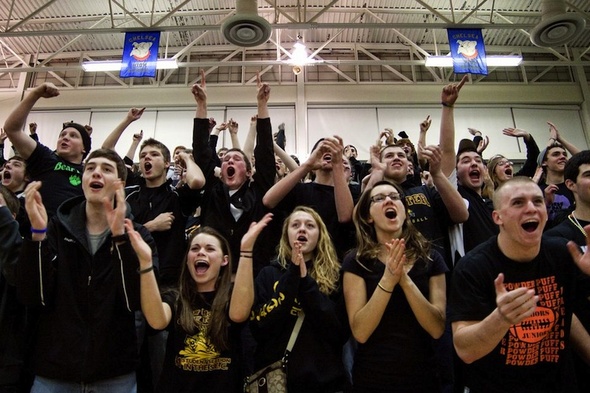 Jeffrey Smith for AnnArbor.com
Late in the
Dexter High School
boys basketball team's blowout of Chelsea on Friday night, the boisterous student section started chanting.
"We want Geoff! We want Geoff!"
Geoff Borchardt is a foreign exchange student from Germany.
"He's really a nice kid and really plays hard so any opportunity he has to get in the game, the crowd totally supports him," Dexter coach Randy Swoverland said. "He's a foreigner in our country and that's a nice thing to see."
With 1:02 seconds left, Borchardt checked into the game and crowd erupted. When he was fouled 30 seconds later, earning a trip to the free-throw line, the student section became reengaged in a game that's conclusion had been foregone since the third quarter.
Facing his student section, which was completely silent but holding their hands in the air and wiggling their fingers, Borchardt missed the first. But he calmly sank the second, giving the Dreadnaughts their final points in a 49-30 win and their crowd its final cheer.
It was the third time Borchardt had scored this season.
GETTING TECHNICAL
While they aren't rivals of the magnitude of, say, Pioneer and Huron, things got a little testy late in Greenhills' 69-59 win over Rudolf Steiner this week.
The problems started with about two minutes left in the third quarter, as Greenhills coach Andrew Wright repeatedly begged the refs to call a carry on a Steiner player's dribble, to no avail.
"He looks like my kid in the backyard!" Wright said to the officials.
That comment irked Steiner coach Nick Sherwood, who took a couple steps out of the coach's box toward Wright.
"Don't talk about one of my kids like that!" he admonished. Wright immediately apologized.
In an effort to rein in the coaches, each got technicals shortly thereafter; Sherwood in the last minute of the third quarter and Wright in the first minute of the fourth.
The game progressed without further incident until the final minute. Steiner player Ben Hadlock, fouling to prolong the game, grabbed the back of the jersey of Greenhills' Emmet Kulka as he jetted past, getting hit with an intentional foul. Sherwood asked the referees what Hadlock did to warrant the intentional.
"He grabbed his shirt," said the Greenhills timekeeper to Sherwood.
"I'm not talking to you," Sherwood retorted to the timekeeper.
Sherwood and Wright shared a cordial handshake and chat after the game and both chalked up the first incident to the heat of competition.
AT THE FOUL LINE
In the second quarter of Huron girls basketball team's 50-31 win over Pioneer on Friday, River Rats senior Devin Talley picked up her second foul. She looked toward the bench, expecting to see a substitute come toward the scorer's table.
Huron coach Steve Vinson left her in, telling her that he needed to be able to trust her to make smart decisions. A few minutes later, she got an earful for nearly picking up her third by foul reaching in on a Pioneer ballhandler.
"Normally, in the second quarter, they get two fouls it's an automatic: You're sitting on the bench," Vinson said. "But when you're getting deep into the playoffs and you've got your seniors and your better players, sometimes you can't take them out depending on how the game's going."
Huron, which has won nine in a row and had only one of those wins come by less than 19 points, is already looking toward districts and beyond. Vinson said the team's focus is less on winning and more on improvement.
"I'm not sure how much better we got tonight and that's really our focus," he said after the Pioneer game. "Right now we're just trying to get better every game."
PIONEER LOSES KEY PLAYER
Up 20 with a few minutes left in a game on Tuesday, Pioneer's Ja'Korey Davis came down on the top of a Tecumseh player's foot and rolled his ankle. On Friday against Huron, he sat on the sidelines with a walking boot on his foot and will miss a few more games because of the injury.
"He's probably out 2-3 weeks," said Pioneer coach Rex Stanczak.
Stanczak expects Davis to be back in the lineup for the state tournament, with an outside shot at being ready the week prior.
-- Jason Idalski, Matt Durr and Michael Florek contributed to this report.