Posted on
Fri, Feb 17, 2012 : 10:38 p.m.
Fast start leads Ypsilanti to a 54-25 victory over Dexter
By Matt Durr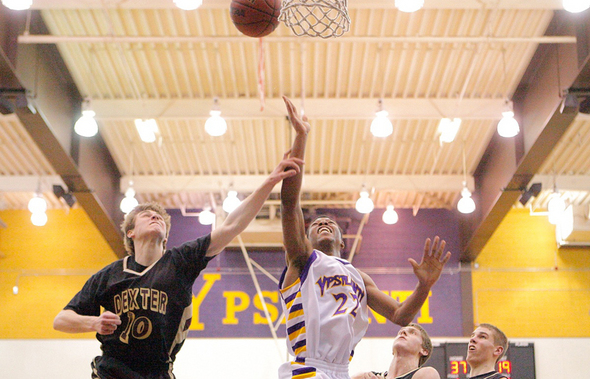 Chris Asadian | AnnArbor.com
The Ypsilanti High School boys basketball team continued its winning ways Friday night with a wire-to-wire, 54-25 victory over visiting Dexter.
An 11-0 run to open the game set the tone early for Ypsilanti, which is now 12-3 overall and 9-0 in Southeastern Conference White Division play.
While the scoring run to open the game was nice, it was the defense that helped Ypsilanti open such a big lead.
"We're trying to get better for the state run, so we just gotta pick it up and defend," said Ypsilanti's Tristan Simmons. "We gotta get the young guys ready and get them going on track and make a run."
Dexter did not score its first basket until after the midway point of the first quarter and managed only seven points for the entire quarter. The Phoenix used their size advantage to alter numerous shot attempts and to keep Dexter off the offensive glass.
More coverage: Photo gallery | Boxscore at MLive.com
"They're very good. The few shots we got, we didn't make any of them," said Dexter coach Randy Swoverland. "Once they got a double-digit lead, I think they were comfortable the rest of the game."
Although everything was going Ypsilanti's way early, point guard Derrick Richardson injured his ankle at the 4:59 mark of the opening quarter and went to the locker room briefly before returning a couple minutes later.
"He is a real gutsy kid," said Ypsilanti coach Steve Brooks. "He's really just getting back into the flow of things."
Once he returned, Richardson would go on to score 14 points to go along with eight rebounds. Simmons would also score 14.
Down 19-7 entering the second quarter, Dexter (6-10, 3-6) kept fighting and was able to stay with the Phoenix. Michael Mioduszewski led the way for the Dreads with 10 points, six of which came in the second quarter. Dexter would enter the halftime break trailing 29-15.
Although Dexter fought to stay with Ypsilanti, Swoverland knew his team was too deep in the hole to overcome the deficit.
"I don't think we battled in the first quarter. The second quarter, at least we competed and played them fairly even," said Swoverland. "But again, when you're already down double-digits, that's not enough."
Ypsilanti would come out to start the second half with an 8-2 run, crushing any chances of a comeback by Dexter. The rout would continue into the final quarter, highlighted by a flashy sequence by Ypsilanti.
After pulling down an offensive rebound, Caleb Baldwin found Simmons in the lane, who threw a no-look pass to Jaylen Johnson for a dunk over a Dexter defender, bringing the entire Ypsilanti bench to its feet.
Even though his team was up big, Brooks kept the majority of his starters on the floor and continued to press Dexter in order to get his team ready for the state tournament. And while Swoverland didn't have a problem with the starters playing all the way through, he did have a warning for Brooks.
"I just hope that he realizes sometimes he puts those kids at risk," Swoverland said. "But that's his decision; I don't have a problem with that. I have no problem with that at all."
Brooks said the competition in the Southeastern Conference is a great way to get his team prepared for the tournament run.
"As far as strategy wise, I love the SEC," Brooks said. "All the SEC teams, every team you have to prepare for. In the SEC, you never see the same thing they ran in the first game. You have to be ready."
Contact Matt Durr at mattdurr@annarbor.com.