Posted on
Mon, Mar 12, 2012 : 10:14 p.m.
Huron boys basketball falters late, loses to Orchard Lake St. Mary's in regional semifinal
By Michael Florek
Chris Asadian | AnnArbor.com
As the seconds ticked off the clock, Huron High School coach Waleed Samaha waved his arms across his body.
The signal: don't foul. As Orchard Lake St. Mary's held onto the ball with nearly 20 seconds left on the clock, the River Rats lined up for the handshake line.
It was the end of St. Mary's 61-51 victory over Huron in a Class A regional semifinal at Novi High School. And for the River Rats, it couldn't end fast enough.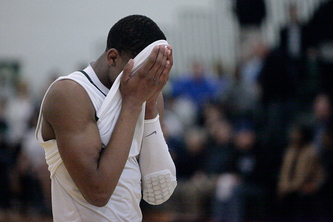 Chris Asadian | AnnArbor.com
Huron's Andre Bond didn't waste anytime reminiscing, making a beeline for the door, well ahead of teammates, jersey over his face.
It was the end of his season and the end of his high school career. But it was also the end of a game that Huron felt it could have won.
"I told the kids I would always be honest with them," Samaha said. "To come in there and start handing out cupcakes, that's not me. … It was a frustrating locker room because we know if we had played better, we would still be playing. "
Related content: Photo gallery | Boxscore | Class A bracket
After falling behind by 11 points at the end of the first quarter after making 2 of 10 shots, it was Bond who led a charge back. He scored seven points and was part of a defense that forced six turnovers that led to a 21-7 second quarter advantage, which gave Huron a one-point lead at the half.
Bond and Mike Lewis led the team with 15 points. Kendall Thomas added 10.
As the game remained tight into the fourth quarter, the missed opportunities that plagued Huron early started to return.
The River Rats hit just 1 of 6 free throws in the fourth quarter. A missed dunk that would have given them the lead with 5 minutes to play led to an easy basket on the other end. By the time Thomas' 3-pointer, halfway in the cylinder, rattled out with 2 minutes left, St. Mary's had extended a one-point lead into seven behind Chibunna Ukandu.
Ukandu scored 11 of his team's 20 points in the final quarter. He led all scorers with 22 points.
"When you miss free throws and you miss three layups, point-blank layups, one being the dunk and two other point-blank layups, those are empty possessions," Samaha said. "You can't have empty possessions in the fourth quarter. And then their possessions on the other end were put-backs off of our misses.
"What we always talk about in our program is you earn victories. You don't always get what you want, but you get what you deserve. Tonight, we didn't deserve to win."
For Bond, Lewis, Thomas and the team's four other seniors, it's the end of a run that put the River Rats in school history with four-straight district titles. After Friday's district championship, Samaha mentioned how proud he was of a team that wasn't expected to win a conference championship this season.
But that doesn't make the final loss any easier.
"As an athlete you hold onto it for the rest of your life," Samaha said. "When you play your last high school game, the finality of it is really the tough part."
Orchard Lake St. Mary advanced to play Catholic High School League rival Detroit Catholic Central in Wednesday's regional final. The Shamrocks withstood a late charge from Walled Lake Central to win Monday's second semifinal, 42-35.