Posted on
Fri, Mar 2, 2012 : 10:54 p.m.
Huron girls basketball team fends off late Brighton rally, wins Class A district title
By Michael Florek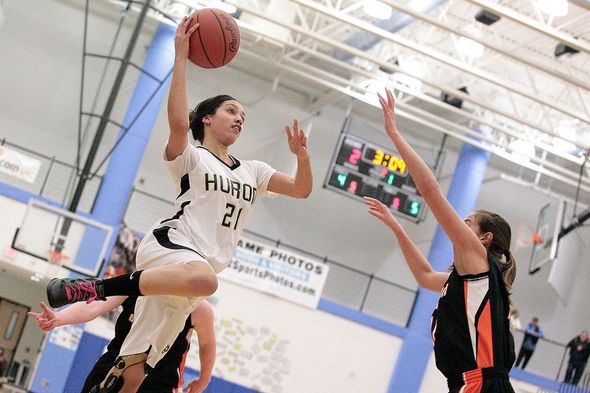 Chris Asadian | AnnArbor.com
The Huron High School girls basketball team knew what to expect coming into Friday's Class A district championship against Brighton. It was looking for it's third district title in the last four years.
What the River Rats didn't expect was gravity to provide the final dagger.
Bianca Williams' rim-rattling 3-pointer with just over three minutes left in the game held off a late Brighton run as Huron beat the Bulldogs, 47-36.
Huron (18-5) reclaims the district title after losing it to Dexter last season. It will play West Bloomfield (10-12) at 5 p.m. Tuesday in a Class A regional at Farmington High School.
"We were preparing for this in the summer," Williams said. "We knew that we were going to win."
The River Rats had extended their lead to 10 points, 34-24, with five minutes left in fourth quarter. Brighton, which hadn't led since it was 5-4 in the first quarter, switched to a press. It led to three steals in the span of a minute, two by Courtney Murphy, to cut the lead to two points.
Murphy had a game-high 15 points.
Huron coach Steve Vinson called a timeout to calm his team down. The next trip down the floor, Williams got an open look from the wing and fired the 3-pointer. The ball hit the rim, bounced, hit the rim again and went off the backboard.
"I didn't (think it was going in)," said Williams, who immediately took off towards the basket to try to collect the rebound. "But I put enough arc under it. I was sure once it hit the backboard."
What goes up, must come down. The ball dropped through the hoop, putting Huron up five. The River Rats would score the next five points to put the game away. Brighton scored just four points in the final three minutes.
"I don't think it affected our energy, but it gave them a lot of energy," Brighton coach Jason Piepho said. "They were really doubting and questioning themselves at that point and that three gave them some momentum. It didn't really feel like it changed our energy."
Related content: Photo gallery | Boxscore | Class A bracket | Friday night roundup
Despite trailing almost the entire game, the Bulldogs kept the margin within 10 until the final seconds. They cut it to a two-point deficit twice in the third quarter, but Huron fought it off with defense. Four consecutive steals gave the River Rats some breathing room and Williams hit a 3-pointer at the end of third that carried over into a 10-2 run in the fourth.
And the River Rats did it all without star guard Devin Talley, who was ejected from the game after a flagrant foul shortly after halftime.
"We've gone through this all year," Vinson said. "We've had people out due to injuries, discipline, whatever. Out of about 20 regular season games, we've only had a healthy lineup maybe four games."
Auzhane King led the way, scoring a team-high 10 points, while Logan Sims also added nine.
As Vinson walked out to receive the district trophy, there was hardly a smile on his face. He was already thinking ahead.
"Although I'm very happy and I want the kids to be very happy and enjoy it, I fully expected to be here," Vinson said. "This is not our last goal. We're trying to go to the state championship."
Michael Florek covers sports for AnnArbor.com. Contact him at michaelflorek@annarbor.com.