Posted on
Fri, Jan 27, 2012 : 8:35 p.m.
Huron overcomes slow start in victory over Skyline
By Jason Idalski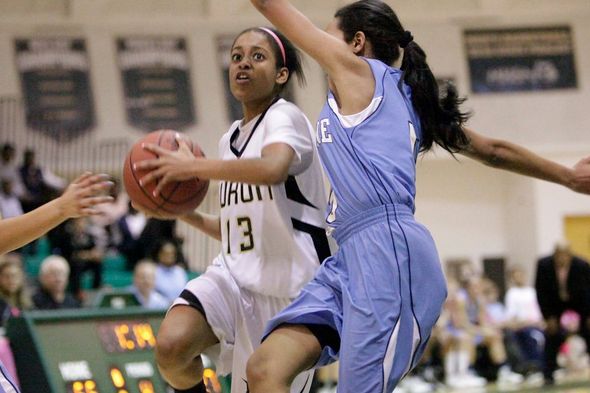 Chris Asadian | AnnArbor.com
The Huron High School girls basketball team was rolling, having won four games in-a-row while their local rival Skyline, was looking for its first league win in school history.
But lest anybody think Huron was overlooking Skyline, those notions were dispelled early.
After Skyline scored to take a 4-3 lead 71 seconds in, Huron coach Steve Vinson called timeout and blistered his team.
The River Rats forced 10 turnovers in the ensuing five minutes of play, 40 for the game, and cruised to a 56-33 home victory Friday night.
More coverage: Boxscore at MLive.com | Photo Gallery | Basketball roundup
"We had just two or three inexplicable defensive breakdowns in the first couple minutes and they led to direct scores," Vinson said.
Vinson said his team wasn't overlooking Skyline, but perhaps was a little too excited to play in the game which doubled as a event for breast cancer awareness, featuring pink warm-ups and the like.
"Maybe me were just too hyped and not focused," Vinson said. "The timeout was really just to try to get that mental focus."
Even with their turnover problems, the Eagles hung around for a half. Zena Shunnar made the second of two free throws for Skyline to close the gap to 23-18 with 2:44 to go in the second quarter. The River Rats then went on a 17-0 run spanning nearly seven minutes of game clock.
"Definitely, disappointed with the first half; I was pleased with our third quarter," Vinson said.
Many of the River Rats' points in that time came in transition following steals.
"Our emphasis this week has been converting those live turnovers into points," said Vinson, separating live-ball turnovers from things like traveling and losing the ball out of bounds.
Skyline coach Keith Wade said that while his team prepared for Huron's press, it was unable to handle it.
"We knew that they were very athletic, very fast," Wade said. "One bad pass, one person being out of position, it caused a turnover."
Logan Sims scored 12, Bianca Williams 11 and Alexis Garner 10 for Huron (8-5, 5-0 SEC Red), which led by as many as 29 before Skyline scored the last six points of the game. The River Rats scored 14 points in each quarter, but were 7-22 from the free-throw line.
Sydney Allen led Skyline (3-10, 0-5), which finished 4-11 from the free-throw line, with nine points.
Wade said he told the Eagles after the game that we was extremely proud of them for two reasons: for trading baskets with Huron early on and for not quitting.
"They didn't give up at the end. They kept fighting," Wade said, referencing his team's closing 6-0 run. "It could have been a lot worse. It could have been 40 or 50."