Posted on
Tue, Feb 21, 2012 : noon
Huron quarterback Alex Hassan wins $1,000 MHSAA scholarship
By Pete Cunningham
Huron High School senior Alex Hassan is one of 13 recipients of the Class A $1,000 Scholar-Athlete scholarship, the Michigan High School Athletic Association announced Tuesday.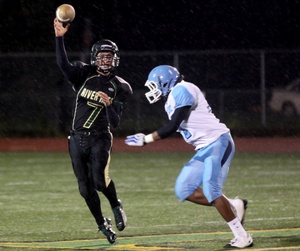 Hassan, a two-year starter at quarterback for Huron who threw for 1,723 yards and 11 touchdowns last season, was one of 32 scholarship winners across all classes. Each recipient will be honored during a halftime ceremony at the Class C boys basketball state championship game on Saturday, March 24, at the Breslin Center in East Lansing.
To be eligible, students had to participate in at least one sport in which the MHSAA sponsors a postseason tournament, carry at least a 3.5 grade-point average and submit an essay on why sportsmanship is important to educational athletics.
Hassan wrote in his essay:
"Sportsmanship and competition do not have to clash. Rather, when working in concert, they enhance each other, which leads to learning important lessons. To participate in competitive athletics is to enter into an unwritten pact, agreeing that by demonstrating excellent sportsmanship, one will respect an opponent's character as much as try to defeat him."
Hassan is considering attending Princeton University, a few other Ivy League Schools and the Massachusetts Institute of Technology to study biomedical and biochemical engineering in the fall.