Posted on
Mon, Mar 5, 2012 : 11:59 p.m.
Huron sneaks by Skyline, Dexter edges Brighton in Class A district
By Michael Florek
Two minutes into the fourth quarter of Huron High School's Class A district quarterfinal game against Skyline, the whistle blew. With two players fighting for the ball in the paint, the refs called a jump ball, giving the ball back to the Eagles.
To no one in particular Skyline senior Jordan Woods yelled something everyone in the Pioneer High School gym had already figured out.
"We a'int going away!"
At that point, Skyline -- down 13 at halftime -- had cut Huron's lead to one, something it did five separate times in the fourth quarter. But the Eagles could never tie the game or take the lead.
Their final attempt came from Woods, their vocal leader during the comeback. His off-balance 3-pointer grazed the front of the rim just before the buzzer sounded, allowing Huron to escape with a 61-58 victory.
More Coverage: Boxscore at MLive.com | Bracket | Basketball roundup
The River Rats advance to play Pinckney, who had a first-round bye, on Wednesday. Dexter defeated Brighton in the early game (see below) and advances to play Pioneer in the other district semifinal.
"We were out-played tonight, we were out-coached tonight," Huron coach Waleed Samaha said. "We were much more lucky than good tonight and you can't depend on luck in the district tournament. "
Early on, the River Rats didn't need much luck. They jumped out to a 5-0 lead to start the game and led 39-26 by halftime. Kendall Thomas hit four 3-pointers and scored all of his 14 points in the first half.
From the beginning, Huron looked like the three-time defending district champion. But the sign of trouble may have been a long 3-pointer hit by Skyline's Sakthi Sambandan at the end of the half to cut the River Rats' from 16 to 13.
"The goal was to try to get it to 10 going into the half," Skyline coach Mike Lovelace said. "So we got sort of close to that."
Coming out of the break, Lovelace unleashed a couple of schemes he was saving for the second half. It paid off right away as the Eagles went on a 7-0 run to start the third.
All of the sudden the lead was five...then four...then two, midway through the third.
But a possession later Huron's Mike Lewis hit a three to give his team some breathing room.
Lewis led his team with 17 points, one short of Skyline's Theron Wilson, who led all scorers with 18 and also had eight rebounds and four assists.
Skyline trailed by one and had possession following a jump ball a minute into the fourth quarter, and look poised to take its first lead of the game, but it never happened.
"I thought for sure we were going to do it," Lovelace said. "I thought for sure we were going to come back all the way."
Again, it was Lewis who kept the Eagles from taking the what seemed to be inevitable lead. He hit another three with five minutes to go to put Huron up, 53-49.
Every punch Skyline threw, Huron had a counter.
The Eagles struggled with Huron's zone defense down the stretch. But that didn't stop Peter Bakker from hitting a deep 3-pointer with 30 seconds left to bring Skyline back within one again.
But Lewis found his way into the lane for a layup one final time to provide the final margin. Lewis said he didn't put pressure on himself to step up in crunch time. It just kind of happened that way.
"It's a team sport, always," Lewis said. "My teammates were the ones that found me on those shots. Especially on the defensive end we stepped up in that last minute and that's why we won the game."
Dexter defeats Brighton
There wasn't nearly as much dramatics involved in Dexter's lead preservation against Brighton.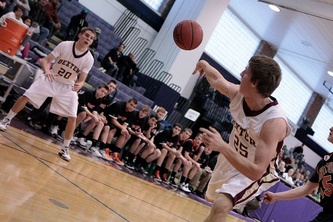 Chris Asadian | AnnArbor.com
The Dreadnaughts took a lead in the first quarter and never relinquished it, running into trouble only once in the second half en route to a 51-40 win over Brighton. The Dreadnaughts advance to play host Pioneer on Wednesday.
More coverage: Boxscore at MLive.com | Photo Gallery | Bracket
"I know a little bit (about them)," Dexter's Derek Seidl said of Pioneer. "They're a good team. They were in contention for the SEC Red title so it's a big game, it's in their gym. It'd be nice to come in here and try to knock them off."
It was Seidl who played a big part in putting the Dreadnaughts in the position to do so. Coming out of the half, he hit two straight 3-pointers to give the Dreadnaughts a 10-point lead one minute into the quarter.
Brighton made its only significant run of the half soon after, pulling within one with 3:00 left in the third.
"We were just scared," Dexter's Jay Lewis said. "We fell apart and then luckily we just found another thing to go with." That thing was two straight old-fashioned three-point plays, one by Seidl, put Dexter back in the driver's seat.
Seidl would finish with 10 points while Lewis had a team-high 11. Brighton's Treston Jones led all scorers with 15.
Lewis would takeover in the fourth -- both in distributing the ball and as the primary scorer -- as Dexter coasted to victory without much help from inside presence, Michael Mioduszewski.
"Mike in the last five games for us has been our leading scorer," Dexter coach Randy Swoverland said. "We couldn't do that so we had to find something else. It was Derek in the third quarter and Jay Lewis creating shots for other people in the fourth quarter."
Contact Michael Florek at michaelflorek@annarbor.com.