Posted on
Sat, Jan 21, 2012 : 12:05 a.m.
Skirmish in final seconds caps dramatic Huron-Pioneer finish
By AnnArbor.com Freelance Journalist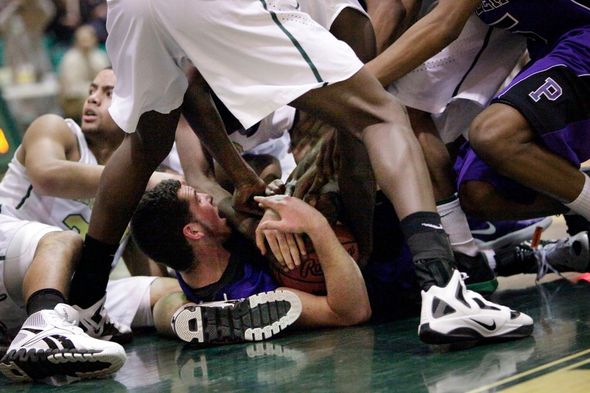 Chris Asadian | Ann Arbor.com
Michael Florek for AnnArbor.com
With nine seconds left in Huron High School's boys basketball matchup with cross-town rival Pioneer, what was taking place on the floor of the Riverdome looked more like football than basketball.
After Huron scored the go-ahead basket with 45 seconds left to put the River Rats up 42-41, Pioneer missed a shot from under the basket on its next trip down the floor. The rebound bounced off a number of hands and fingers en route to the floor, whereupon all 10 players dove for the ball.
Players piled on top of each other and referees peeled bodies off the top as if they were searching to find who recovered the fumble.
The final call was a jump ball, with the possession arrow in Huron's favor, effectively giving the River Rats a dramatic 42-41 victory, to keep them in first place in the Southeastern Conference Red Division.
"We're growing up," said Huron coach Waleed Samaha. "We're learning a lot of lessons and we learned another very important lesson today."
Samaha's club learned the art of the second-half comeback.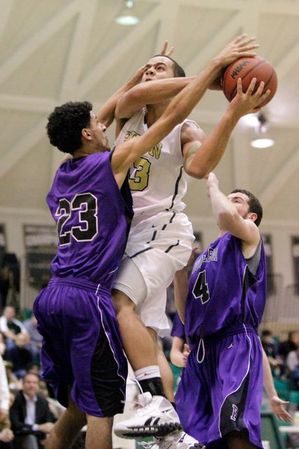 Chris Asadian | AnnArbor.com
The Pioneers opened the game shooting hot from long range -- hitting five 3-pointers in the first quarter, including a half-court buzzer beater from
Jimmy Holman
-- and added two more in the second to go into halftime with a 25-16 lead. Holman would go on to lead the Pioneers in scoring with 12 points.
"I was like, 'If they keep this up, we'll be in trouble,' " said Huron's Mike Lewis. "But it's basketball and it's a game of runs, so we knew that eventually they'd cool off and we'd make our run."
Huron (4-4, 2-1) would wait for Pioneer (7-4, 2-1) to hit one more 3-pointer after halftime before doing so. In a five-minute stretch in the middle of the quarter, the River Rats went on a 16-2 run to briefly take a one-point lead with a little over a minute left. Eight of Lewis' game-high 16 points came during the stretch.
The River Rats didn't make any adjustments at halftime, as everything they changed they did from the outset. Instead of playing their usual press defense, Huron ran a 2-3 zone the entire game. But it wasn't until the second half that it started to pay off. The third-quarter run took off after a Huron steal and layup on the other end.
"We over-prepared for the press and under-prepared for their zone," said Pioneer coach Rex Stanczak. "We thought they might zone us, but we thought we had to prepare for the press and that's what we did for four days. Things just didn't go our way the second half."
The Pioneers would retake the lead and stretch it to as much as six early in the fourth before again falling victim to the zone and a Huron run. An 8-2 River Rats run was punctuated by steal and coast-to-cost transition layup by guard Andre Bond to tie the game 40-40 with 1:44 left.
"His eyes would be looking and then he would be ready to skip it," Bond said. "Every time he looked for that skip I would just see it and steal it."
Bond also a made a nice pass off of a drive inside to forward Nick Perkins for the go-ahead basket, which turned into the game-winner after Pioneer's desperation heave with three seconds left was stolen.
"It's a good win overall," Bond said calmly, before breaking into a smile. "Really, I'm just happy that we won that game."