Posted on
Fri, Jan 13, 2012 : 11:59 p.m.
Andre Bond leads Huron in tight SEC Red win over Saline
By AnnArbor.com Freelance Journalist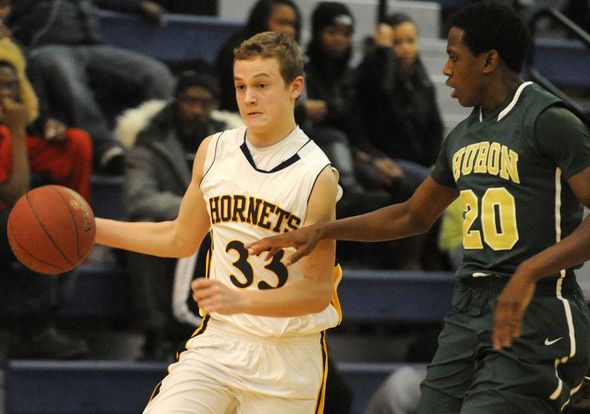 Angela J. Cesere | AnnArbor.com
Michael Florek for AnnArbor.com
Saline coach Matt Seidl was familiar with Huron point guard Andre Bond. He had a member of the Bond family on his staff when he used to coach at Willow Run a while ago. The familiarity didn't help.
Bond led all scorers with 20 points to help Huron beat Saline, 51-46, on Friday. The River Rats' senior kept surprising Seidl, especially with the shot he hit in the middle of the fourth quarter.
More coverage: Boxscore at MLive.com | Photo Gallery | Boys basketball roundup
With Huron up by two, Bond got the ball just outside the 3-point line. With a man on him, he double-clutched and hit the straight away 3-pointer.
"That hurt," Seidl said. "It was a two-point game and I really didn't think anybody had the momentum. All of the sudden it went to five. It seemed to kind of change the game."
Angela J. Cesere | AnnArbor.com
The next time down the floor, Bond hit another 3-pointer. The following trip, he went to the free-throw line, hitting one of two to cap a personal seven-point run.
But it all wasn't that easy. Bond's 20 points, along with teammate Mike Lewis' 19, didn't seem likely early in the game. Even the 17 scored by Saline's Michael Smutny seemed out of reach at the beginning.
"There was a time there where I wasn't sure we were going to score 20 points," Huron coach Waleed Samaha said
Turnovers and missed shots were the norm early, leaving Samaha to call the game, "full of teachable moments." The teams combined to shoot 15-for-50 from the field in the first half.
"This is one of those games where you can point to and say you can have a bad night shooting the ball, but if you defend and rebound, you're going to win some games," Samaha said.
The River Rats (3-4, 1-1 SEC Red) ran their typical press defense. It paid off. Saline turned the ball over 25 times. Some easy baskets in transition gave Huron 17-13 halftime lead.
The effort was led by Bond and a 7-0 run, a sign of things to come. This first edition came in the closing minutes of the second half, and was highlighted by a one-handed dunk in transition.
"I was feeling it," Bond said. "So I just kind of finished it."
But Seidl told his team that this was a game of runs, and Saline (6-2, 2-1) responded to Bond's scoring streaks with a few of their own. After some subtle adjustments at halftime, the Hornets started the third on 9-0 run. By the end of the quarter the game was tied 27-27.
The Hornets' final run ended just short. After pulling the game within four, Huron turned the ball over on the inbound.
Michael Hendrickson's picked the ball up on the wing and launched a three pointer. Hendrickson would finish with 13 points, but despite both coaches thinking it was in, his final three-point attempt rattled out.
The River Rats got the rebound and iced the game with free throws.
"I think they're going to be the group to give me the gray hair. They want to do that. That's their goal," Samaha said. "This will be a game we point to a number of times...we didn't shoot the ball well tonight and we had a few careless turnovers, but we defended and rebounded."
Michael Florek can be reached at florekmic@gmail.com.