Posted on
Thu, Jan 12, 2012 : 9:38 a.m.
Katie Jazwinski drops out of Olympic trials in marathon to focus on steeplechase
By Jason Idalski
Dexter cross-country coach Katie Jazwinski has wanted to represent the U.S. in the Olympics since she was in high school.
So it might seem counterintuitive that after qualifying, she would drop out of the U.S. Olympic trials in the marathon, scheduled for Saturday in Houston.
But Jazwinski's efforts to head to London in 2012 as part of the U.S. team are ongoing; it's just that she's now focused on a different event: the steeplechase.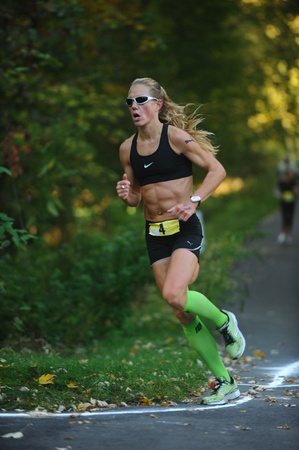 Photo Courtesy of Katie Jazwinski
Running her first marathon in October,
Jazwinski ran a 2:45:01 in Grand Rapids, a time good enough to qualify for the Olympic trials
. But if you think she was thrilled with that performance, you'd be wrong.
"That was pretty much the worst race I've ever run in my life," Jazwinski said. "I totally didn't listen to what I was supposed to do and be conservative, I went out way too hard, I totally died and it was terrible. It was an awful race."
Jazwinski's time was 152nd among qualifiers, more than 20 minutes behind the time of Rochester Hills' Desiree Davila in the Boston Marathon this year.
"I really ran like crap," Jazwinski said. "And everybody's like 'oh, you qualified for the trials,' but I was hoping to get a much faster time than that."
While Jazwinski knew she could improve on her time, she said improving it to the point of being in the top three at the Olympic trials was, as she put it, a "one in a million" chance.
"There's so many amazing women, not only just in Michigan, but in the whole country," Jazwinski said. "Right now, there are some ladies in Michigan only that would kill me in the marathon."
But she knew she still had a chance at her dream. Jazwinski, her husband Bob Jazwinski and Grand Valley State cross-country coach Jerry Baltes came up with a list of events on which to focus qualifying: the 5K, 10K and steeplechase. But with the 10K almost as deep as the marathon, they chose the steeplechase -- an event Katie Jazwinski has run twice in her life, 10 years ago.
"The steeplechase is just an event that is kind of wide open," Jazwinski said. "They just looked at it and thought that my chances of running a fast time and making it to the finals is a good possibility."
The steeplechase, a take-off on the horse race of the same name, is 3,000 meters. Over the course of the race, competitors jump 28 regular hurdles and seven water pits (one per lap), which start three feet deep and get shallower. The further competitors jump, the less they have to deal with the water.
"The first time I did it was pretty ugly. I fell in the water pit and underwater," Jazwinski said. "But you get better at it with practice. I feel like I'm a novice at it right now but with my husband's help and Jerry ... I'm really excited to improve."
Jazwinski was five-time All-American in cross country and track at the University of Michigan and was named the Big Ten Female Athlete of the Year in 2002. After college, she said she never thought she'd run on the track again in her life. Now, she's shooting for a qualifying time at this spring's steeplechase trials.
Jazwinski needs to come up with a qualifying time at a USA Track-sanctioned event in order to qualify for the Olympic trials. Preliminaries are June 25 and the finals June 29 in Eugene, Ore. Like the marathon, the top three finishers will go to London in 2012.
It's still a long shot, but Jazwinski says it's better than her marathon chances.
With the marathon trials coming up soon, Jazwinski has had to inform a lot of well-wishers that she's not competing. Some are surprised and ask if she's sure she's doing the right thing. Jazwinski says she is.
"I actually don't feel any regret at all," she said. "It's exciting to say you qualified (in the marathon), but my ultimate goal is to make it on a U.S. team. I know I wouldn't at this point."
Jazwinski said she first developed that goal in high school, but kept it to herself. As she improved and started to realize it could be a reality, the more excited she's been about it and the more focused she's been.
"This has been a goal of mine all my life," Jazwinski said. "And it's really exciting to know that with small steps I can try to achieve it this year."
Jason Idalski covers sports for AnnArbor.com. Contact him at jasonidalski@annarbor.com.