Posted on
Tue, Mar 13, 2012 : 6:55 p.m.
Huron girls basketball advances to state semifinals with win over Saginaw Arthur Hill
By Michael Florek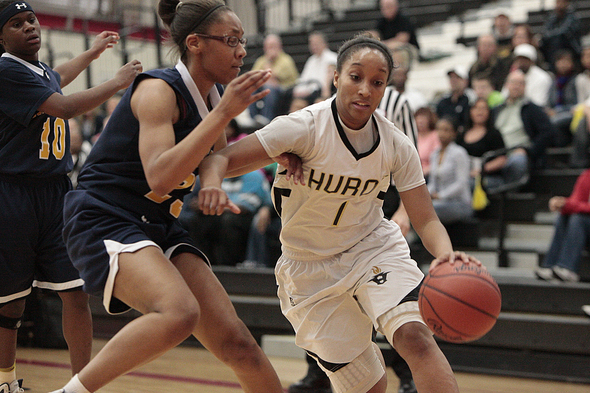 Chris Asadian | AnnArbor.com
Updated 11:15 p.m.
GRAND BLANC -- The players on the Huron High School girls basketball team can stop saying one word. In class, in the hallways, after practice, they said it every day for the past week.
Breslin.
After a 52-39 win over Saginaw Arthur Hill in a Class A state quarterfinal at Grand Blanc High School, they can stop talking about it. For the first time in school history, the River Rats will be going there.
Related content: Boxscore | Photo Gallery | Notebook | Class A bracket
Breslin, of course, is the Breslin Student Events Center on the campus of Michigan State University, where the final four will be held this Friday and Saturday.
Huron will play Grosse Pointe South at 2:30 p.m. Friday in a state semifinal. The Blue Devils were 58-54 winners over Waterford Kettering on Tuesday.
"We talked about it at the beginning of the season," Huron coach Steve Vinson said. "We had the personnel to go to Breslin and that we expected to be there. So we're happy, but we're focused on winning this thing." By the time the second half came around, Huron was working with a 15-point lead and there was little doubt about getting there.
Arthur Hill started fast, gaining a 6-0 lead less than two minutes into the game. Vinson called a timeout. The message: "Relax. Take a deep breath."
"I know I was nervous," Huron's Devin Talley said. "Everybody else was nervous. I was just like 'OK, let's get it together.' We all calmed down."
Talley hit a basket, got fouled and made the free throw. Bianca Williams hit a 3-pointer 13 seconds later to tie the game. Alexis Garner's basket inside gave Huron the lead with just under four minutes left in the half. It would never relinquish it, going on to score 16 points in the first quarter.
Talley had a game-high 18 points while Williams added 10. Arthur Hill's Shanesha Blair, who scored two of the first three baskets to give the Lumberjacks their brief lead, led her team with 14 points.
"We just boosted up our confidence," Talley said. "At first our confidence was low because we're nervous and we were like 'Oh, this team is good.' But we're the same competitive (level), so we were just like, 'We can get it together. We can win this game.'"
Normally an up-tempo team, Vinson held the River Rats back, opting instead to play a half-court game against the speedy Lumberjacks, saying he thought he "had a clear advantage" in forcing Arthur Hill to play in the half-court.
He was right.
A 14-3 run in the second quarter gave the River Rats the 15-point lead at halftime. The difference? Defense.
"When you take defensive breaks, especially in a game like this, this is what happens," Arthur Hill coach Reginald Williams II said. "You cannot take a quarter off when it comes down to games like this."
"We took two quarters off."
On the other side, it took the Lumberjacks nearly five minutes to make their only field goal of the second quarter.
"We really won this game on the defensive end," Vinson said. "I thought we had a great defensive plan and we stopped them. That's what this game is all about."
Huron cruised from there. The only hiccup came when the Lumberjacks switched to a press, as the minutes wound down, leading to eight Huron turnovers in the fourth quarter.
The Lumberjacks cut the lead to nine points with 1:27 left. But Williams received a technical foul after arguing a jump ball call, sending Talley to the line. She hit both free throws, Huron scored on its next possession and a prolonged celebration began.
Auzhane King started high-fiving teammates as she was pulled from the game. The team huddled at the middle of the court, chanting "Whose House? Green House" Players posed for a team picture before a dance party broke out at midcourt.
"We're excited," Talley said, smiling. "We're making history. Have you seen that dancing over there?"
Contact Michael Florek at michaelflorek@annarbor.com.