Posted on
Sat, Feb 25, 2012 : 12:46 p.m.
Manchester falls to 3-time state champion Hudson in wrestling semifinals
By Pete Cunningham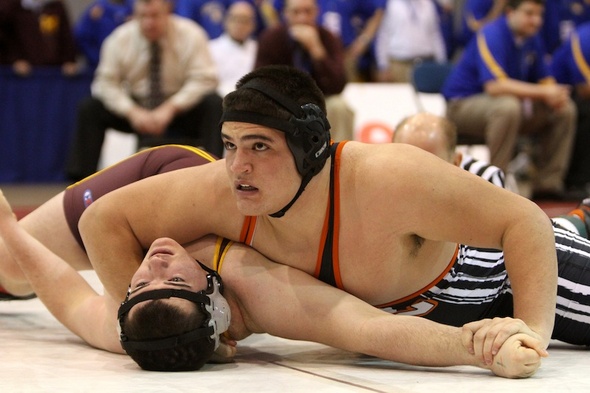 Ian Maule | MLive.com
BATTLE CREEK — By way of random selection, the Division 4 team high school wrestling state semifinals between Manchester and Hudson started at the 215-pound weight class.
Manchester has a senior returning all-state wrestler at 215, while Hudson has a sophomore with less than 15 matches on the year.
The random starting weight was the only thing to go Manchester's way as Hudson displayed exactly why it will go for its fourth straight state championship with a dominant 48-14 win.
More coverage at MLive.com: Boxscore | D4 Bracket | Statewide coverage
After Austin Hamilton win by decision in the that first bout of the match to put Manchester ahead 3-0, Hudson won the next seven straight, four by pin, as the Dutchmen won just three bouts.
"We're just not here yet," said Manchester coach Steve Vlcek. "Those kids put a lot more time in than our kids do. If we want to be as good as (Hudson), we've gotta do what those kids do."
Loud cheers came from two mats down at Kellogg Arena down as Shelby and New Lothrop battled for a chance to face Hudson in the final later on Saturday.
Barely a cheer came from the Hudson section (this isn't their first rodeo) while for Manchester there was precious little to be excited about.
"It's tough, you know, you start to see heads start hanging after a while," Hamilton said. "But this is a young team, so hopefully the young guys can step up in the next couple of years."
Hudson led 33-3 after the seven-win run, but needed one more to officially shut the door on Manchester.
Back-to-back major decisions by Cameron LaDoucer and James Schriber at 140 and 145 pounds left it mathematically possible for a comeback with Hudson ahead 33-11. With four bouts remaining, there were 24 possible team points still technically up for grabs heading into the bout at 152.
The points were only technically up for grabs because at 152 Hudson has defending individual state champion Joel Varney and at 160 two-time champion and three-time finalist Devan Marry.
Varney and Marry record back-to-back first period pins, securing the win for Hudson.
Varney said he didn't know his match could secure the win for his team. He said he didn't even check the score.
"I'm just thinking just got to go out there and get it done," Varney said. "I want a pin."
Manchester's Brian Robert defeated Cody Walden 3-0 at 189 for Manchester's final team points.
Shelby and New Lothrop tied 28-28 with Shelby adviancing on tiebreaker criteria. They will face Hudson in the finals at 4 p.m.
"One last dual meet, we've been preaching all year to finish, that's what we gotta do now is finish," Hudson coach Scott Marry said.
"I'm nervous as I was the first time. It's not about wining three or four, when you're here it's just about winning it with these kids," Marry said. "The key matchups will be down low. If we can get some bonus points down low we should be in good shape."
Contact Pete Cunningham at petercunningham@annarbor.com or by phone at 734-623-2561. Follow him on Twitter @petcunningham.