Posted on
Thu, Mar 8, 2012 : 5:38 a.m.
Manchester girls basketball team to face Riverview Gabriel Richard in Class C regional
By Matt Durr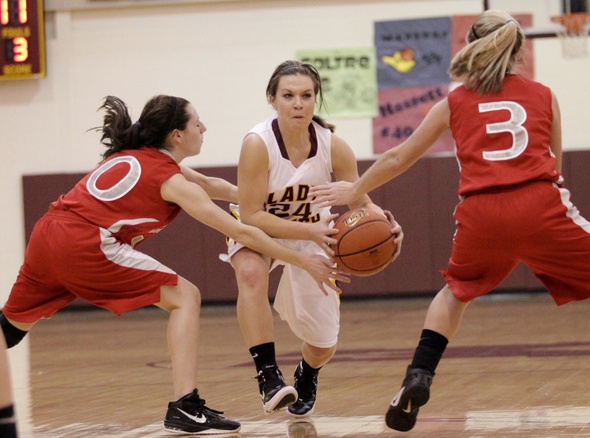 Chris Asadian | AnnArbor.com
After winning its first conference championship this season, the Manchester High School girls basketball team is looking to win its first regional championship when it faces Riverview Gabriel Richard Thursday night at Summerfield High School.
"This has been a great season, we've made history so far with winning our first conference championship and now we need to win our regional championship," Manchester coach Cori Kastel said after a 43-38 win over Adrian Madison on Tuesday. "We're on a mission."
Manchester is led on offense by 6-foot junior forward McKenna Erkfritz, who had a 20-point, seven-rebound performance against Madison. The Flying Dutch also turn to sisters Jessie and Taylor Manders for outside shooting and driving the lane.
More regional previews: Huron vs. Hartland | Father Gabriel Richard vs. Marshall
"It's not going to be one kid that carries this team," Kastel said.
Riverview Richard won the Catholic High School League in 2012 for the first time in the school's history, finishing the regular season with a 16-4 record under the direction of first-year coach William Jones. The Pioneers cruised to a 67-36 win over Britton-Deerfield in their regional semifinal.
Jones knows Erkfritz will be a challenge, but believes his team will be up to the task.
"There are going to be some interesting things we have to do to keep her under wraps," he said, adding that he doesn't expect to shut Erkfritz out completely.
Sisters Lauren and Ashley Henderson pace the Pioneers, who are a fairly young team with only three seniors (Lauren being one of them) on the roster. Ashley scored 31 points in the team's win on Tuesday.
"It doesn't matter who gets the ball and who gets the shots," Jones said. "They've all been on board, the buy-in has been very evident. We said from the beginning it's going to take a group effort to accomplish what we want to accomplish."
"They're very athletic and they can run the floor. Our biggest challenge, I think, is going to be to slow down their guards," said Kastel. "We're very talented at the guard position. One of the biggest things is staying out of foul trouble and keeping quick feet."
On defense, Riverview is a zone team that likes to pressure the ball and force turnovers, while using different defensive sets. But that doesn't seem to concern Kastel.
"We've seen many different defensive sets, so I'm not worried about that," Kastel said, adding that her team will need to focus on getting open without the ball and making smart decision with the ball.
Contact Matt Durr at mattdurr@annarbor.com.