Posted on
Thu, Mar 8, 2012 : 10:09 p.m.
Manchester girls basketball team falls in Class C regional final
By Matt Durr
PETERSBURG -- The Manchester High School girls basketball team's historic season came to an end at the hands of Riverview Gabriel Richard in a Class C regional final at Summerfield High School on Thursday.
McKenna Erkfritz scored 23 points and pulled down 13 rebounds for the Flying Dutch, but the Manchester offense struggled as a whole in a 39-33 loss.
"McKenna did everything that she could and she did her job, but we just didn't have anybody else that has been off-setting her that stepped up," said Manchester coach Cori Kastel.
More coverage on Mlive.com: Boxscore | Class C Bracket
Manchester led 27-24 at the end of the third quarter, but after picking up her fourth foul with one second left, Erkfritz sat on the bench for the first half of the fourth. The Dutch managed just two points in her absence.
"They had some longer guards that made it more difficult to get a shot off and It kind of got in their heads and took their confidence away," Kastel said.
GIRLS BASKETBALL REGIONAL FINALS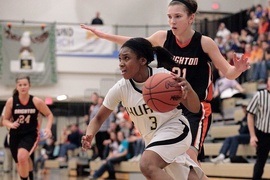 AnnArbor.com regional finals coverage:
Before Erkfritz picked up her fourth foul, Manchester's defense smothered Riverview. Defensively, the Dutch had three separate stretches of more than three minutes where they didn't allow a field goal, including two, five-minute spans in the first half.
"Defensively we did a nice job and that was one of the biggest things," said Kastel. "We did a nice job on switches and trying to take away dribble penetration."
But with Erkfritz on the bench, Riverview's Lauren Henderson was able to drive the lane and score from inside. When she wasn't making layups, Henderson was making shots from the free-throw line.
"It really hurt us when we had McKenna on the bench because she was the help side that was coming off the relief and when we didn't have that presence, we didn't have anyone to stop it," Kastel said.
Henderson would finish with a game-high 25 points, including 13 in the fourth quarter.
"It opened the lane up a lot more and we were able to drive more," Henderson said.
Despite the offensive struggles early, Riverview coach William Jones said his team remained confident.
"We play a low possession type of game anyway where we're not worried about fast-tempo and lots and lots of shots, but quality shots." Jones said. "Even though we weren't getting scoring, we were getting quality shots along the way."
Eventually the shots started to fall and with three minutes left in the game, the Pioneers took their first lead since the beginning of the second quarter. Riverview (18-4) extended its lead from the free-throw line.
Manchester (22-3) continued to struggle on offense and once the game turned into a free-throw contest, the Pioneers pulled away. Highlighted by Henderson hitting 7-of-8 from the line in the fourth quarter.
"I couldn't say enough about her," Jones said. "The fact that she is able to still stay composed and measured throughout that is just something fantastic."
The regional championship is only the second for Riverview in program history according to Jones who is in his first season as head coach for the Pioneers.
Although her team fell short of its ultimate goal, Kastel looked at the season a giant positive for the Lady Dutch.
"We had a heck of season, we won our conference, we won our district, so those things you can't take away. We won 22 games; I don't know the last time Manchester girls basketball won 20 games.
"This is what we walk away and remember and this is what stings, but we did a lot of positive things that they got to remember and build off that," Kastel said.
Contact Matt Durr at mattdurr@annarbor.com.