Posted on
Thu, Feb 23, 2012 : 11:27 p.m.
Manchester girls win share of first ever conference title
By Matt Durr
Sara Winkler | Jackson Citizen Patriot/MLive.com
The Manchester High School girls basketball team captured a share of its first Cascades Conference championship in school history with a 61-43 win over Grass Lake in front of a home crowd on Thursday night.
The Flying Dutch avenged a loss suffered to Grass Lake on Jan. 10, giving both teams identical 12-2 conference records to split the championship.
"It feels really good," said junior McKenna Erkfritz, who had 11 points and nine rebounds. "This is was something we could never do before. We thought we were out of it, but to come back and be co-champs is even better."
For Erkfritz and her teammates, this was a game they had circled on their calendar.
"We were ready for it the day after we lost to them in the first place. I think that time we took preparing really helped out in tonight's game," Erkfritz said.
Manchester came out of the gate with a 7-2 run and ended the quarter leading 16-8. Defensively the Dutch forced six turnovers in the quarter. But it was the shooting of sisters Taylor and Jessie Manders that helped Manchester build its lead.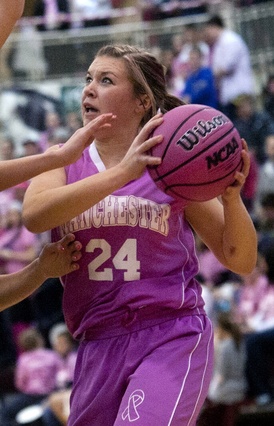 Sara Winkler | Jackson Citizen Patriot/MLive.com
The duo made four 3-pointers in the first half and combined for 18 of the team's 35 first half points. Jessie Manders, a freshman, finished with a game-high 19 points while pulling down seven rebounds. Taylor Manders had nine points.
"We were playing as a team, and that's what we need to do. We worked the ball around and that's how we got good shots," Jessie Manders said. "When we play as a team, we're unstoppable."
Coach Cori Kastel wasn't surprised that Jessie Manders and fellow freshman Maddie Collins (eight points) were up to the challenge of performing in such a big game.
"We like to say they're first-year varsity, not freshmen," Kastel said. "They play hard and those guys have stepped in and they gel. The chemistry has just been there."
Trailing by 15 with a little less than three minutes left in the half, Grass Lake got three consecutive 3-pointers from Sydney Rubingh and Clara Waidley to build some momentum before the half. Manchester would hold a 35-24 lead at the break.
Early in the second half, Grass Lake trimmed the lead to nine, but it would be the closest the Warriors would get. Kellyn Herendeen and Sydney Cook led Grass Lake with nine points each on the night.
Erkfritz, who spent most of the first half on the bench with foul trouble would score six consecutive points for Manchester and help restore the lead to 16 points after three quarters 50-34. Erkfritz finished with 11 points and nine rebounds.
The first time the two teams met, problems at the free-throw line hurt Manchester and with that in mind, Grass Lake resorted to fouling the Dutch early in the fourth sending them to the line. Manchester went 7-of-9 from the line in the fourth -- including 6-of-6 from the freshman Jessie Manders -- and secured a share of the conference championship
"It's hard to put into words," said Kastel. "This is something we set as a goal at the beginning of the season. They did something tonight that we've never done at this school"
With one of their goals accomplished, Kastel and her team now turn their focus on districts Monday where they face Clinton at 8 p.m. at Willow Run High School.
Kastel said she thinks her team will be a force in the state tournament.
"The biggest thing is maintaining the confidence. It's not like we have to work on certain plays or anything, it's just the quick feet and keep doing what we're doing," Kastel said. "We're going in with a lot of confidence and if they keep doing what they're doing, they're going to be very tough to beat."