Posted on
Wed, Mar 21, 2012 : 2:50 p.m.
Pioneer grad Casey Stockton chosen for 10-month sabbatical with 'Basketball Peace Corps'
By Michael Florek
It took an extra six days and 18 minutes for Casey Stockton to get the call he had been hoping for.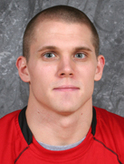 Denison University
When it finally came, the former Pioneer High School guard was too shocked to be over the moon. He'll settle for going around the world.
Stockton, who recently finished his senior season at Denison University, won $25,000 as the Shooting Touch sabbatical program's grantee. The program provides an opportunity for graduating college seniors to embark on a 10-month international work program centered on using basketball as a means for social change.
Basically, take the Peace Corps and add basketball.
Beginning in October, Stockton will spend five months in Rwanda living with a family and developing a basketball program for CHRISC, a local charity helping homeless children.
He'll then move on to South Africa to help with an orphanage project and Peace Players' International, a development group that uses basketball as a means for educating kids about HIV and AIDS.
The final two weeks will be spent working with the NBA's Basketball Without Borders Program.
"The person that (Stockton) is and the confidence that he had and his experiences with teaching and helping the community … it was sort of the total package for us," Shooting Touch co-founder Lindsey Kittredge said. "There were a lot of different factors to who we think can best represent us as an organization overseas and who we think can handle the challenges of this grant and what this program is about."
Shooting Touch's 12-member board, which includes current and former NBA coaches, players and front office personnel, along with Shooting Touch founders Justin and Lindsey Kittredge were supposed to have voted on a winner by midnight on March 14.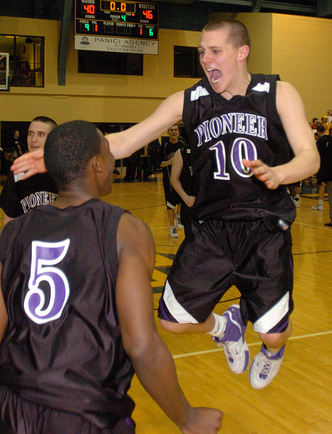 AnnArbor.com file photo
Scheduling conflicts among the board pushed the decision back to Sunday. Then to 8 p.m. on Tuesday.
"It was pretty bad," Stockton said. "The way it worked was if you got an e-mail you didn't get it and if you got a phone call you got it. So it's pretty hard being a college student trying to send yourself academic articles and not being able to retrieve them, because I refused to check my e-mail."
As the clocked ticked past 8, Stockton still hadn't received any notification.
At 8:18 he finally got a call from Justin and Lindsey Kittredge.
"(Lindsey) kept delaying the reveal," Stockton said. "Eventually, like four minutes into the conversation, she told me I won. … I couldn't say anything. They were asking me how I felt and I couldn't really say anything back."
Stockton won by two votes, although Shooting Touch, in its third year of the sabbatical program, will send the first runner-up overseas this year as well.
Stockton began using basketball to impact people in high school. While helping lead the Pioneers to a Class A semifinal as a junior in 2007 and an undefeated regular season as a senior in 2008, he worked with Pioneer coach Rex Stanczak at his basketball camps.
"(He was) an unbelievable leader by example," said Stanczak, who stays in contact with Stockton. "Almost never lost a sprint drill, almost always the first guy in the gym and last guy out."
He moved on to volunteer with a number of different non-profits through his college career. When Stockton's college coach gave him a newspaper clipping of the Sabbatical Program he couldn't believe it.
"I thought it was made for me," Stockton said.
In February, he was selected as one of six finalists from 115 applicants for the program and was tasked with making a YouTube video application. Whichever of the finalists had the most views of his or her video would win an extra vote.



Using a friend's suggestion Stockton tweeted his video to celebrities in hopes they would retweet it to their followers. Most didn't. Michigan quarterback Denard Robinson did, as well as Michigan State basketball player Derrick Nix.
By the time of the decision, his video won the extra vote with nearly 6,000 views. All the characteristics Stanczak saw in high school came through.
"The video is really important because it really shows who the person is," Kittredge said. " (It) gives the candidate really an ability to exemplify their passion for the game and their passion for their desire to help others."
Stockton says he eventually wants to run a non-profit of his own. But for right now $25,000 and 10 months in Africa will do.
"It's the same kid who played for me as a 17- and 18-year-old," Stanczak said. "He's just gotten more mature and moved on to a high sphere in life at this point.
"It's kind of the natural progression I would have thought Casey would take."
Michael Florek covers sports for AnnArbor.com. Contact him at michaelflorek@annarbor.com.