Posted on
Fri, Feb 10, 2012 : 10:54 p.m.
Pioneer boys basketball team smothers Huron, claims top spot in SEC Red
By Matt Durr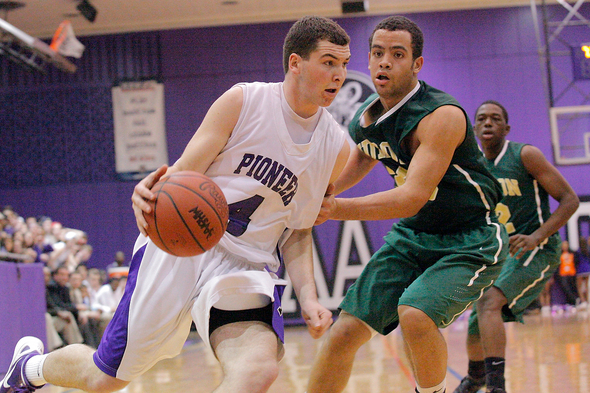 Chris Asadian | AnnArbor.com
Prior to the his team's game against Huron High School, Rex Stanczak told his Pioneer players that they must focus on closing out the game if they have a lead.
They responded by shutting down Huron in the second half of a 50-34 win that put them in first place in the Southeastern Conference Red Division.
"We wanted to finish the game," said Pioneer's Jibreel Hussein. "That was enough for Huron."
With 4:12 left in the third quarter, Huron scored to make it 33-30. It would be the last field goal the River Rats would make for the next 12 minutes, before scoring with 12 seconds left in the game on a Ernest Johnson jumper.
"Give Pioneer credit, they did a nice job defensively," said Huron coach Waleed Samaha. "They outplayed us and they deserved to win."
More coverage: Photo gallery | Boxscore
In the last two contests between the schools, Stanczak felt his team outplayed Huron but couldn't finish the job. So, naturally, he was pleased that him fought for the full 32 minutes.
"I thought our kids did a good job of (closing out)," Stanczak said. "Everything for us starts on the defensive end. It's really important for us to guard and take responsibility for your man."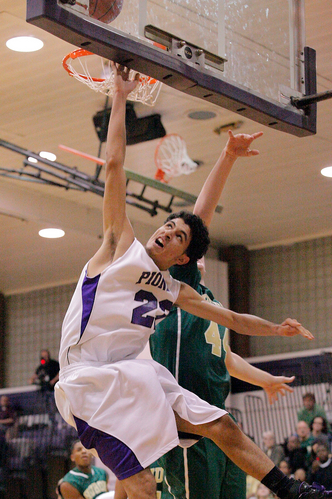 Chris Asadian | AnnArbor.com
Hussein led the all scorers with 20 points, eight of which came in the first quarter. A majority of his buckets came in the paint, a focus for his team entering the game.
"We put on the keys to the game: patience. We know they wanted to be all over us," Hussein said. "But we know we had to get it to the middle and get layups, layups, layups."
Huron opened the contest with three turnovers early, and looked out of sorts for the first few minutes. Samaha agreed that his team may have come out with too much energy because of the importance of the game and the rivalry.
"Sometimes with the emotion of the rivalry you can benefit from the emotions and sometimes the emotions can really overtake you a bit," Samaha said. "I think maybe we were drained a little bit."
Down 19-12 with six minutes left in the first half, Andre Bond sparked a 7-0 run for the River Rats and two minutes later the game was tied at 19. Bond would score four of his team-high 10 points on back-to-back buckets, get a steal and find Allen Thomas open for a 3-pointer that tied the game in the two minute span.
The two sides would stay close until the break where Pioneer would take a 24-22 lead as the teams went to their locker rooms.
Coming out of the break, both sides clicked offensively and with a little over six minutes left in the third quarter, the game was tied again at 28. But just two minutes later, Huron's shooting troubles began and Pioneer would start to pull away taking a 40-31 lead into the final quarter.
Pioneer entered the game without one of its leading scorers, Ja'Korey Davis, who was injured late in Tuesday's game against Tecumseh. Davis sat on the sidelines with a walking boot and is expected to miss 2-3 weeks, according to Stanczak. Even without one of its best players, Pioneer still found a way to cruise to victory.
"It's a team here and everybody shares the ball," Stanczak said. "You don't see egos; you don't see agendas on our team."
Although its in first place in the SEC Red, big road games against Temperance Bedford and Skyline are still on the Pioneer schedule.
"In the interim, we wanted to win the league. We really needed to win this game on our home court to do that," Stanczak said. "This was really important for us for our regular season goal of winning the conference."
And while Stanczak enjoys beating a rival, he doesn't want to put too much stock into a game played in mid-February.
"I think it was important for us from a mental standpoint. Our kids know they can beat em," said Stanczak. "If we both take of business in the district and both get back to the district final, us winning this game won't mean a thing to either team."