Posted on
Tue, Jan 17, 2012 : 5:29 p.m.
Premier high school football event moves from Eastern Michigan
By Pete Cunningham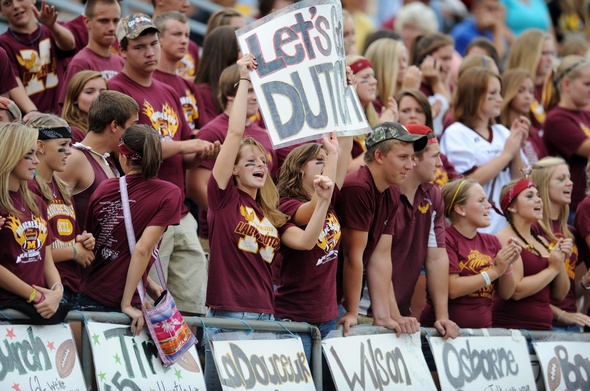 Melanie Maxwell I AnnArbor.com
Eastern Michigan University will no longer be the epicenter of the high school football season's opening weekend.
The Detroit Sports Commission announced today that the annual Big Day Prep Showdown is moving from Rynearson Stadium to Wayne State University's Tom Adams Field and will be renamed the Detroit Sports Commission Prep Kickoff Classic.
"We got to a point where we thought the event needed a fresh look," said Dave Beachnau, Detroit Sports Commission executive director and organizer and founder of the event. "The allure of playing in a Division I stadium is no longer the hook now that it has become an event with some of the premier matchups for the opening weekend. Wayne State provides a little more atmosphere where you can fill the stadium."
The Detroit Sports Commission is a subsidiary of the Detroit Metro Convention & Visitors Bureau that was formed in 2001 to bring regional, national and international amateur sporting events to metro-Detroit. Beachnau said the motivation behind not having the games at EMU is, in part, an effort to "bring the event back to the center of the region that we represent."
Since the Big Day Prep Showdown began in 2005, Washtenaw County teams have participated every year. Last season, five local teams played in the three day event. None of the six games to be played Aug. 24-25 as part of the Kickoff Classic will involve Washtenaw County teams.
Chelsea -- which played in all but one Big Day Prep Showdown -- was originally scheduled to play University of Detroit Jesuit, but UD Jesuit backed out. Saline was also asked to participate, but had another game already scheduled.
"I wouldn't say it's totally off the table, but right now we can't get it done," said Chelsea coach Brad Bush who said his team has always communicated to him that they liked playing at Rynearson. He hopes to play at Tom Adams Field in the future.
"I like dealing with (the Detroit Sports Commission) and they've been good to us," Bush said. "I ask every year and the majority (of players) say they enjoy (playing in a college stadium.)"
Beachnau said he hopes Washtenaw County teams will participate in future events.