Posted on
Sat, Feb 25, 2012 : 7:30 p.m.
Saline boys swim and dive team sweeps all 12 events to win SEC Red championship
By Matt Durr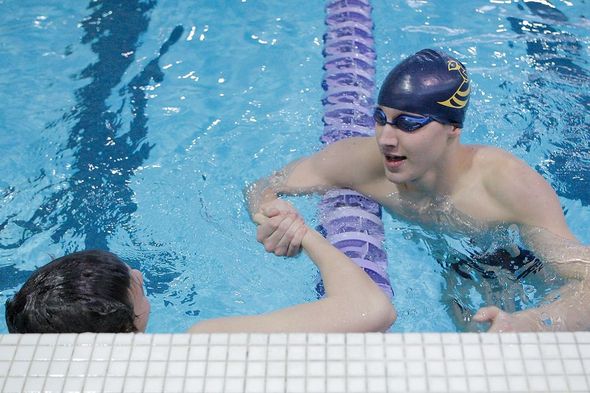 Chris Asadian | AnnArbor.com
The
Saline High School
boys swim and dive team earned a clean sweep of the Southeastern Conference Red Division Championships on Saturday afternoon at
Pioneer High School
and, along the way, set four SEC records.
Saline won all 12 events to post a team score of 556. Pioneer finished second with 544.5.
Junior Josh Ehrman of Saline set records in the 200-yard individual medley with a time of one minute, 53.17 seconds and in the 500 freestyle with a time of 4:39.52.
"I wasn't really thinking about them, I was just going out there to race for my team," said Ehrman. "I was trying to win SEC's again for Saline."
More coverage on MLive.com: Results Photo Gallery | Dexter wins SEC White for 14th consecutive conference title
Ehrman was also a part of the record-breaking 400 freestyle relay team along with David Boland, James Fisher and Adam Whitener. The squad's time of 3:09.36 beat the previous record by nearly three full seconds.
Boland would also earn a record with a time of 58.74 in the 100 breaststroke.
"We came in here and we just knew we had to get it done today," Ehrman said. "I think we came together as a team well and stepped up. We knew we had a shot (at winning all 12 events), but it was exciting."
Despite winning every event, Saline did not run away with the championship, thanks in large part to the depth of Pioneer's squad. The Pioneers took second in eight of the 12 events and were able to add points by having numerous individuals in finals heats.
Saline coach Tood Brunty was happy with his team's performance, but mindful of what lies ahead.
"This meet is a tough one to get through. It's kind of like a survival, get through it, do your best and know your peak is in a couple weeks," Brunty said, in reference to the state finals on March 9-10. "That's a tough task, but you could see today a little step up on their level that they're ready for the next couple weeks."
The swimmers won't compete again until the Division 1 finals at Eastern Michigan University. The divers will be participate in a regional tournament on March 6 at Pioneer High School.
Brunty plans on cutting back the workload for his guys.
"Basically mentally prepare as much as physically now. Start resting our bodies, resting our minds and getting ready for the next couple weeks," Brunty said.
Final Standings:
Saline: 556
Pioneer: 544.5
Huron: 393
Skyline: 364
Monroe: 189.5
Temperance Bedford: 78
Contact Matt Durr at mattdurr@annarbor.com.