Posted on
Sat, Mar 10, 2012 : 5:44 p.m.
Saline boys swimming team wins third straight Division 1 state championship
By Michael Florek
Angela J. Cesere | AnnArbor.com
By the time the last event started at the Division 1 boys swimming state finals on Saturday, there was little doubt about the outcome of the meet.
Saline High School had already locked up its third straight state championship, going on to beat second-place Rockford by almost 100 points.
"This was our goal," Josh Ehrman said. "Now that we actually have it done, it's a great feeling."
Still, there was plenty of intrigue at the Eastern Michigan University pool, even as the Hornets pulled away to win the 400-yard freestyle relay to set a an all-class state finals record with a time of 3:04.26.
But Saline's goals didn't just end at the team state championship. They were trying to break the national record time of 2:59.7 set by New Trier High School in Illinois. Coming short of the mark left the Hornets with a hint of disappointment when it was all said and done.
"We were thinking about it," Saline coach Todd Brunty said. "They go the fastest time in Michigan history and they're disappointed, and rightfully so because I think we did have the ability to do some special things."
Saline won seven the meet's 12 events.
More coverage: Photo gallery | Results at MLive.com
Ehrman was named the Swimmer of the Meet after setting a Division 1 finals record while winning the 100 breaststroke with a time of 55.36 seconds and was part of both winning Saline relay teams (200 medley and 400 freestyle).
Adam Whitener won both the 100 and 200 freestyle races while David Boland was also a two-time individual champion, finishing first in the 100 butterfly and beating Ehrman in the 200 individual medley.
In both of Boland's wins, the second-place finisher was his teammate.
But Brunty, still soaking wet from what has now become an annual celebratory jump into the pool, felt like his team had more to give.
"They certainly have got a lot of improvement to do," Brunty said. "I think we can swim better than we did today. We'll go back, find a way we can get faster.
"We're still in the world of swimming, all across the country and at the Olympic level, which some of these guys aspire to. There's a lot of ways we can get better and we're going to keep trying to do that as a team."
Saline will have to wait to see on how well it did nationally. After all the state finals are finished in a couple of weeks, times will be compared. Aside from the freestyle relay, Brunty said the individual medley, butterfly and breaststroke times will compete nationally.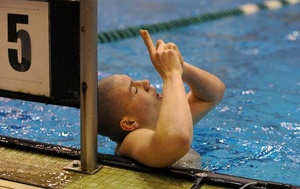 Angela J. Cesere | AnnArbor.com
"We'll see how we do," Brunty said. "It's kind of a mythological thing anyway. We don't ever get in a pool and go after them. I'd like that but we don't get to do that."
Pioneer finished fourth in the team standings. Seiji Osawa led the way, winning the 500 freestyle and finishing second to Whitener in the 200 freestyle. Chris Klein added a pair of top-5 finishes in the 200 IM and 100 backstroke.
Huron finished 19th and Skyline 22nd. Huron's James Reigger was fourth in the 100 backstroke. Skyline's Matt Orringer was eighth in the 500 freestyle and 200 individual medley.