Posted on
Tue, Jan 10, 2012 : 10:36 p.m.
Skyline leads wire-to-wire in win over Chelsea
By Matt Durr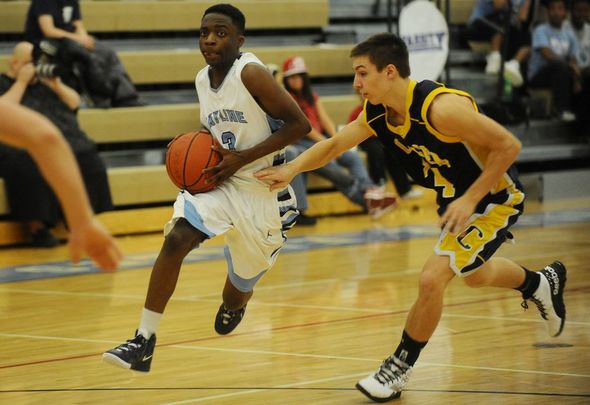 Melanie Maxwell | AnnArbor.com
After a disappointing effort from his players last week against Salem, Skyline head coach Mike Lovelace challenged his team to play with more intensity. They responded by leading from start to finish in their 65-42 win over Chelsea Tuesday night.
"It was important for us to come out strong," said Skyline guard Peter Bakker. "Especially after the game against Salem. Everybody brought it today. What really got us going was the bench."
More coverage: Boxscore at MLive.com | Photo Gallery
Twelve different players scored for Skyline, including nine points off the bench from Travonn Banks. Theron Wilson sparked the Eagles in the first quarter scoring five of his 11 points in the frame, while recording a steal and a block defensively in the quarter.
"We knew we had to work hard in practice and bring it to the game," Wilson said.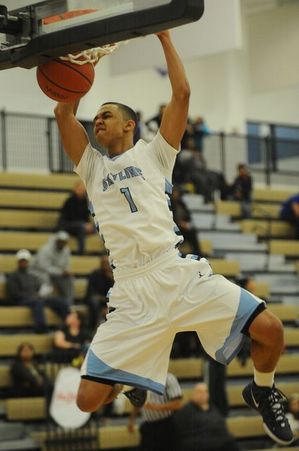 Skyline (5-2) only held a 30-25 lead at the half, but went on a 10-2 run to open the third quarter and out-scored Chelsea 24-8 in the third, highlighted by the work of Wilson and
Jordan Woods.
Late in the quarter, Woods found Wilson on an alley-oop. Moments later on back-to-back possessions, Wilson and Woods would have breakaway dunks that brought the Skyline fans to their feet.
"We panicked," said Chelsea head coach Robin Raymond. "We played well in the first half and we knew they were going to press us in the second half."
That press got to the Bulldogs (2-5) who never found a rhythm offensively and failed numerous times to break the press.
"I told the guys, 'let's learn from this so the next time we face the press, we're better prepared for it,'" said Raymond.
On the defensive end, Bakker was instrumental in applying pressure to the Chelsea players, breaking up a handful of passes and recording three steals to go along with his seven points, and helping push the lead to double digits.
"Peter brings that intensity," said Lovelace. "When he's on the court, the other guys see how hard he works."
Jake Fischhaber led Chelsea with a game-high 13 points, fighting for buckets down the stretch with the game out of reach.
"Jake works hard," Raymond said. "He can put the ball on the floor and make things happen."
Thanks to commanding lead, Skyline was able to get some valuable minutes for the bench players. Seeing the bench on the court was something the whole team and the fans enjoyed.
"We're a tight community at Skyline," said Wilson. "It's exciting because they work just as hard as we do in practice."
While Lovelace didn't have an answer for last week's struggles, he was pleased that his team responded on their home court.
"They had fun, they played hard," said Lovelace. "We have a huge game Friday (against Bedford) and I wanted to try and make sure we're headed upwards."