Posted on
Sun, Jan 13, 2013 : 5:59 a.m.
Pioneer runner overcomes disabilities, MHSAA rule to realize her dream
By Kyle Austin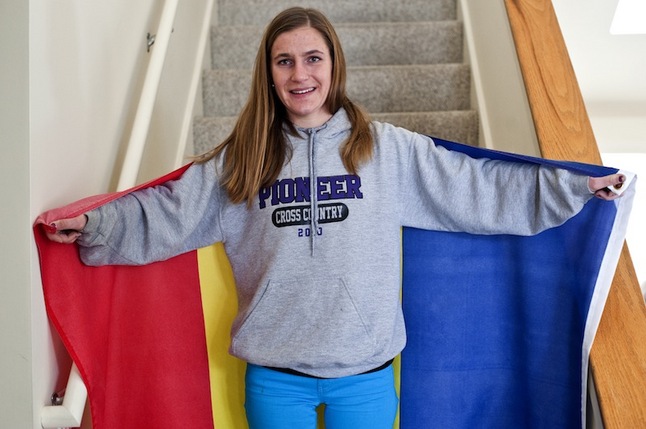 Joseph Tobianski | AnnArbor.com
To watch Elena Boudreau run is to see evidence of her past and her present all at once.
Start at the legs. Look closely, and you'll notice she runs with a slight limp. She doesn't even notice it anymore, but people still point it out.
Adopted from Romania as a 6-year-old, Boudreau came to Ann Arbor in 1999 weighing just 32 pounds. An infancy and childhood spent confined to a crib left her with a left leg that wouldn't bend past 90 degrees.
Physical therapy helped her range of motion, and by middle school she was playing sports.
Yet the musculature in her hip area remains damaged, and her gait is a reminder of the first six years of her life.
But look above her legs, and you'll see something even more rare than a limp.
Most cross country races end with runners who appear to have been through some sort of cruel torture. Whether participants are new to the sport or experts, the 3.1-mile courses always seems to exhaust them in a visibly painful way. The fact that no course is exactly the same — some are flat and basically a straight line, others involve steep hills and narrow winding trails — makes it that much more difficult.
From first to last place, it's common to see participants collapse, vomit, cry or some combination of the three at the end of a race. Whether running at a four-and-half or 10 minute mile pace, the fact that runners are most often pushing themselves to their personal limit makes the sport universally debilitating.
Yet Elena, always has a smile across her face — from beginning to end — while she competes in one of the most grueling of high school sports.
"She's the only girl I know who will smile during a race," Bob Boudreau, her adoptive father, said.
Standing in the kitchen of her family's Ann Arbor home last week, Elena bursts out laughing when her father brings this up.
She can't quite put her finger on what makes her grin when most people grimace.
But she knows that she has plenty to smile about these days. About to begin the second semester of her senior year at Pioneer High School, Elena has overcome being abandoned in a Romanian hospital, a learning disability and an MHSAA rule to get to where she is.
And with an assist from a man from Ishpeming she's never met, she had an unexpected senior season.
"I'm just a happy girl," Boudreau said.
Age old rule
That Elena would be running, or smiling, in a Pioneer uniform this season at all was plenty uncertain for reasons that have nothing to do with her disability.
Four years ago, when she was in eighth grade, her adoptive mother, Nancy Boudreau, saw a problem coming down the road.
The MHSAA's maximum age rule states that any students who turn 19 before Sept. 1 of their senior year are ineligible to compete in sports. After entering kindergarten as a six-year-old following her adoption, then repeating the grade, Elena was on track to turn 19 in January of her junior year.
So Nancy wrote a letter to the MHSAA, asking about the possibility of a waiver for her daughter, given her circumstances.
The answer was unequivocal.
"They sent something back, 'Absolutely no, no waivers, no consideration,'" Nancy said.
The MHSAA said Elena could begin competing at Pioneer in her second semester as an eighth—grader. But according to her mother, that wasn't feasible.
After trying out swimming, volleyball and soccer as a middle schooler, Elena settled on running. The choice came as little surprise. Nancy competed in the Olympic Trials and was an alternate on the 1968 and 1972 Olympic teams. Bob was an All-American at Eastern Michigan. The two met at a track meet in 1988 and got married the next year.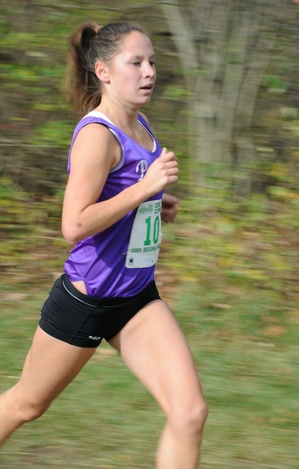 Lon Horwedel | AnnArbor.com file photo
Their other adopted daughter Liza, three years older than Elena but not related by blood, was already on Pioneer's cross country team by then, where she would become an All-State runner.
Nancy began coaching Elena's team in middle school, and would move on to become a Pioneer assistant. But after that letter came, it seemed like there was no way around Elena's high school running career being cut a year shot.
"I was kind of defeated," Nancy said of receiving the letter. "I wasn't going to pursue much."
Welcome to Romania
Before taking the trip to Romania in April 1999, Nancy had been sent photos and a video of the girl who would become her second adopted daughter.
But nothing quite prepared her for the moment she was handed a 6-year-old, 32-pound girl in the parking lot of the Bucharest airport.
Elena is the second child the Boudreaus adopted from overseas. They adopted Liza from Russia three years earlier. Then, Nancy spent the entire time with an English-speaking chaperone, and visited Liza's orphanage before taking her home.
Romania, though, would prove different, as Nancy quickly realized as she sat in a taxi bound for the hotel, with a crying Elena on her lap.
After Elena's foster family handed her over at the airport, an adoption agency representative said it would take two days to get the paperwork processed. So Nancy spent the first two days with her new daughter unable to communicate, mostly taking long walks around an unfamiliar city.
The one place she wanted to go, though, she couldn't. Nancy asked to be taken to the orphanage where Elena grew up, but was told absolutely not. Questions about Elena's past went unanswered.
The story they were given was that Elena's mother gave birth in a hospital, then left. Elena was named by the hospital, and wasn't issued a birth certificate until age 4. The date on it is Jan. 1, 1993 — one the Boudreaus would question when it later determined her MHSAA eligibility.
Past that, almost nothing was known as Nancy and Elena left for the United States after a three-day trip.
Elena herself can't fill in any of the holes. She remembers nothing before coming to Ann Arbor. Some days she wishes she knew more. But she knows there may be a reason she doesn't remember.
"I do wonder, but maybe it's not so bad," Elena said. "I wish I could find my parents, but I don't think I could."
Let 'Em Play
In early 2010, Dean Dompierre came to the same realization that Nancy had come to a year earlier.
A middle school science teacher in Ishpeming, a small town in the Upper Peninsula, Dompierre realized his son Eric Dompierre, who has Down Syndrome, would turn 19 before Sept. 1 of his senior year, and be ineligible for sports. Like Elena, Eric had been held back a year in school when he was young. Then a freshman in high school, Eric had become a kicker on the school's football team, and joined the basketball team over the winter.
Like Nancy Boudreau had, Dompierre sent a letter to the MHSAA, asking about the possibility of receiving a waiver for his son. He received the same response Nancy had a year earlier.
Of all the rules in MHSAA handbook, the maximum age rule was the only one the MHSAA did not grant waivers for. According to spokesperson John Johnson, the association had concerns that overage students could provide their teams with competitive advantages.
To Dompierre, that wouldn't be the case with his son. So he submitted a proposal to the MHSAA that would allow waivers for the rule, only to see the association's representative council reject it.
Undeterred, he did more research on other states' policies, submitted a second proposal. That one was rejected, too, in December 2011.
Seven months before the start of his son's senior year, Dompierre said the prospects of saving the season were looking grim. But they were about to get a jumpstart.
In March, a local television station aired a story about Eric, about his love for sports and the likelihood that he wouldn't have a senior season.
The video went viral, and Dompierre's cause was suddenly a national one. His story was featured in Sports Illustrated and the New York Times on consecutive days in April. Two days later, Dompierre went on Fox News to talk about the case.
"It took off and it snowballed," Dompierre said. "As far as I was concerned, I was just holding on for dear life."
Soon, he had Michigan school board members, superintendents, even the head statistician of the Detroit Lions, who helped Dompierre set up a website for the cause, pitching in to help with the effort, which became known as "Let 'Em Play."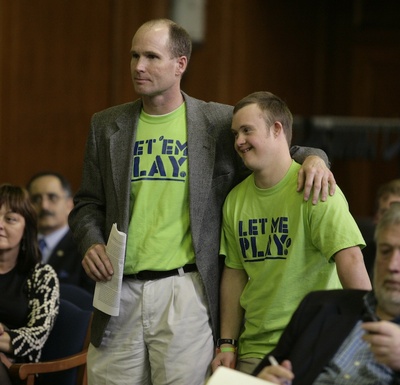 Associated Press
Eventually, Dompierre found himself on the floor of the state senate in May, testifying with his son by his side. The legislature passed a resolution urging the MHSAA to allow waivers for the rule.
Five days later, the MHSAA representative council voted to send the matter to a vote of member schools. Ninety-four percent voted for it, and the constitution was changed.
From Ann Arbor, the Boudreaus followed news about the case intensely as it received more and more attention. They had years ago resigned to the fact that Elena would lose her senior season. Now, there was hope.
"He did what I thought couldn't be done," Bob Boudreau said.
Uphill battle
It was apparent from the start that in the classroom, Elena would have an uphill battle.
In her first evaluation in her new school, Elena was shown picture books of animals. She couldn't identify any of them. She couldn't identify colors, either. She could count to 10, but no farther.
"She just had no experiences with anything," Nancy said. "So she was learning everything new besides the language."
The normal connections made in an infant's brain through human interaction weren't there in Elena's. In many ways, she's been playing catch-up ever since.
All through elementary and middle school she had math and English in separate classes. By middle school, though, she grew frustrated, feeling like the only one in those classes that cared about school. So she worked even harder, with the goal of joining all mainstream classes.
Since enrolling in Pioneer, in the same math and English classes as her friends, she "blossomed," her mother said, both in the classroom and socially.
But learning is still a challenge. Committing something to memory requires going over it time and time again. Elena often makes flashcards, because pictures help her remember. She can handle a list of two or three directions. But give her five or six things in a row to do, and she'll forget the last few.
She still receives extra time and notes on some tests, and was in academic support classes until last year.
But one thing hard work in the classroom hasn't been able to change is her birth date. Ever since a kindergarten class list was posted with birth dates on it, Elena's faced teasing for being two years older than most of her classmates. Often, she's simply lied and said she's younger than she is.
Elena was reticent to go public with her story at first, primarily because of her age. But by having her story out there, she hopes she can inspire others faced with similar difficulties.
She also wants to show she's proud of who she is: a 20-year-old Pioneer senior who's come through the special education program. And part of who she is now is a strong advocate for special education students. One of her classes at Pioneer includes helping special education students in a physical education class.
Elena plans on going to Washtenaw Community College for two years, and then transferring to a four-year institution. She hopes to bring her journey full circle: from the child who couldn't identify animals during her first evaluation, through special education, to become a special education teacher.
And she knows she's already gotten through some of the hardest parts.
"I'm very proud of myself, not to be cocky," Elena said.
Running without a finish line
All through the summer, Elena ran, knowing every grueling mile, every early morning practice could be in vain.
The MHSAA had amended its constitution, but her senior season was far from certain. After the vote came back, the MHSAA set narrow circumstances for granting waivers. That included proving a disability that diminished "both physical and either intellectual or emotional capabilities."
With the help of Pioneer, Nancy put together an application that soon turned into a stack of paperwork, including Elena's individual education plans and her medical records, and shipped it off to the MHSAA.
But as the season inched closer and official practices began, the MHSAA still hadn't responded to the application.
"I was really, really worried," Elena said.
Hoping for an answer, Nancy stopped by the Pioneer athletic office on Aug. 10. Pioneer athletic director Eve Claar put a call in to the MHSAA, and soon was giving Nancy a thumbs up. The waiver had been approved.
Up north, Dompierre was receiving the same good news about his son Eric. And when he went through the minutes from the meeting where his son's waiver was approved, he was surprised to find another approval. It described a girl that was adopted from Romania and had overcome physical and mental hardships to become a Pioneer cross country runner. Eric and Elena are the only two athletes in the state to be granted age-limit waivers so far.
Dean's goal from the start of his campaign was to not just create an opportunity for his son, but for other students around the state as well. Excited that it happened in the first year, Dompierre sent an e-mail to Pioneer, providing his contact information in case anyone from the family wanted to contact him.
A few weeks later, he received an email from Nancy.
"Without your efforts, Elena's dream would not be possible," she wrote.
"If it hadn't been for Dompierre's going through this, she wouldn't be able to do this," Nancy said. "And just having this story out there, maybe other people will read it and maybe think they can do it too."
The dream of a senior season had been realized. Not only that, Elena ran every race in 2012 as a member of the varsity team for the first time in her career -- meaning she was among the team's seven fastest runners for the historically strong program -- and set a new personal best during the season.
Boudreau scored for the Pioneers with a 31st place finish (out of 91 runners) in the team's regional competition with a time of 21:34.82. It was Pioneer's fourth fastest finish of the day (top 5 from each team team score). Elena was 1:03.44 away from qualifying for the state championships as an individual and with a fourth place team finish, Pioneer fell one spot shy of making it as a team.
Elena is currently running indoor track, and will run track in the spring.
The Ishpeming football team, meanwhile, won the Division 7 state championship at Ford Field in Detroit in November. The Dompierres and Boudreaus tried to meet up, but couldn't make it work.
So Dompierre and his wife plan on making the seven-hour drive down from Ishpeming to Ann Arbor this spring to watch a track meet.
Once there, they'll find a place in the bleachers, and follow the runner with the limp and the smile on her face.
"We just want to sit up in the corner and just watch," Dompierre said. "I think that will be as gratifying for us as it is to sit up in the stands now and watch Eric play basketball."
Kyle Austin covers sports for AnnArbor.com. He can be reached at kyleaustin@annarbor.com or 734-623-2535. Follow him on Twitter @KAustin_AA.