Posted on
Thu, Feb 2, 2012 : 5:27 a.m.
Try to 'Beat Pete' as Huron and Pioneer try to stay atop SEC Red
By Pete Cunningham
I was one pick from perfection with an 8-1 picks record last week.
The Tecumseh High School boys basketball team beat Dexter, spoiling my bid 9-0 showing. Serves me right for picking against the alma mater.
Though there was a record amount of participation in last week's 'Beat Pete' contest, no one managed to go 9-0 and beat me. That's probably not the best marketing strategy, but I just can't bring myself to take a dive…unless the odds are right, of course.
There are still some winners to be mentioned, though. Luai Alzoubi of Ann Arbor is the winner of $20 Domino's Pizza gift card. Congratulations, Luai.
The big winner this week, however, is the Skyline Athletic Booster Club, which will receive a $150 donation from AnnArbor.com. The donation comes courtesy of Laurie Adams of Ann Arbor, who was picked at random from our 'Beat Pete' pool of participants and chose the Eagles to receive the donation.
Every week we will continue to pick one "Beat Pete" participant at random for the Domino's gift card and every month AnnArbor.com will pick another participant at random and donate $150 to the school of their choice. (Official contest rules.)
Pete's picks:
Depending on how you look at it, the Huron High school boys basketball team either was fortunate in its draw of Ypsilanti as one of its two Southeastern Conference crossover games, or got a raw deal.
An optimist would say the River Rats were lucky because they drew the only elite team in the SEC White division, and playing tough games is how a team improves.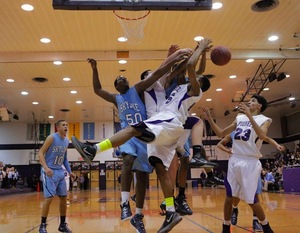 Chris Asadian | AnnArbor.com
On the other hand, it put Huron in a bit of a disadvantage in terms of competing for a league title, with a tougher road than its main competition of Pioneer and Bedford. Pioneer lost to Ypsilanti as well, but the game didn't count in the league standings. Bedford doesn't play the Phoenix at all.
Everything evened out last week when Pioneer beat Bedford in double overtime. Before the loss to Pioneer, Beford had the only unblemished SEC Red record, but now the Kicking Mules, Pioneer and Huron are all even atop the standings at 4-1.
Nothing like an assist from your cross-town rival.
Huron can take control of the conference race on Friday against Bedford at home.
"We've had a good run against Bedford, but this is the best team they've had since we've been in the conference," Huron coach Waleed Samaha said. "They have great guard play and Jackson (Lamb) is so physical, athletic and long."
Fans might want to see the 6-7 Lamb — a Division I college prospect for the class of 2013 — and Huron's 6-4 beast of a power forward Mike Lewis battle, but Samaha said he doesn't anticipate much of a one-on-one battle between the two.
"We both play different styles, so there's not many times where they'll be matched up. I don't know how many interactions there will be," Samaha said.
Even if the individual matchups don't pan out how we'd like, the game should provide an entertaining clash for the league's top spot and leads off this week's picks.

Beat Pete Winners
None this week (sorry).

Pete's picks record: 34-11.
People who have "Beat Pete" so far: 33.
Contact Pete Cunningham at petercunningham@annarbor.com or by phone at 734-623-2561. Follow him on Twitter @petcunningham.