Posted on
Sun, Jan 22, 2012 : 5:30 a.m.
Two shoes are better than one and other basketball notes
By AnnArbor.com Staff
At the beginning of the season, the Ypsilanti High School girls basketball team decided to order team shoes.
Fortunately for guard Jasmine Jones, no one consulted her father and she ended up with two pairs of brand new sneakers.
Jones' father bought her a pair of Nike Max Air basketball shoes, black with purple trim and logo with sparkled purple laces to match the school colors. The team ordered Nike Zoom Hyperfuses, black with white trim and logo.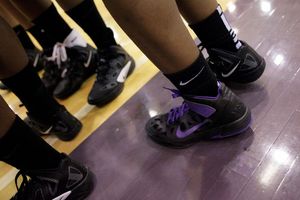 Chris Asadian | AnnArbor.com
Rather than slight either her team or her father, Jones wears both shoes during games. At the same time.
Team shoe on the right. Dad's shoe on the left.
"We decided to get team shoes, but I didn't want to just put away the shoes my dad got me," Jones says. "So I wear them both."
Though the Air Max shoes come up higher on the ankle and have a strap across the front, Jones insists she can't tell the difference.
"It's basically the same shoe," she says.
Her preference? She's a daddy's girl.
"I like the purple ones with the sparkly shoelaces," she says.

REAL RATS WEAR PINK
Friday's boys basketball game between Huron and Skyline will start with the two teams united under one color: pink. As part of the Coaches vs. Cancer initiative and Huron's own "Real Rats Wear Pink" campaign, both teams will wear pink shirts during pregame warm-ups.
The event's goal is to raise funds for the American Cancer Society and will be a boy's and girl's double-header. Both coaches will wear sneakers with their suits to raise awareness and there will be a game-ball auction, as well.
"It's going to be a great night," Huron coach Waleed Samaha said. "We're raising awareness, but we're also raising funds for the American Cancer society. … It's a great cause, an important cause. We really ask the community to come out and get behind it."
Huron raised $4,000 during the event last year. The goal this year is $10,000.

HEAVY HEART, SHOOTER'S TOUCH
Skyline junior guard Victoria Norris's grandmother died on Monday, so coach Mike Hotchkiss was unsure if she'd be up to playing in the team's Tueday night game against Monroe. That is until he received a text from her.
"You know I'm playing tomorrow," the text read.
And play she did. With her team trailing 26-9, Norris hit four consecutive 3-pointers. Though Monroe would go on to win the game, 62-44, Hotchkiss credited Norris with keeping the team in the game.
"She's the heart and soul of this team," he said.

HOMECOURT ADVANTAGE
The Dexter student section tries to make it as difficult as possible for the opposition to make free throws. Along with the traditional screaming and waving of arms, students also spin a spiral wheel to try and hypnotize shooters out of making shots.
The school's boys swimming team did its part in a 62-53 win against Chelsea Friday night, stripping down to Speedos and gyrating behind the basket during Bulldogs' free throw attempts.
The stripping drew a harsh cease and desist warning from the powers that be, but the strategy of distraction as a whole worked out for Dexter.
Chelsea shot just 45 percent from the free-throw line when facing the Dexter section compared to 60 percent when facing its own fans.

WINNING TALLEY
Michael Talley, who played basketball at Michigan from 1989-93, wasn't watching the Wolverines defeat the Spartans 60-59 on Tuesday. Nope, the former guard was instead coaching at Ecorse High School, where he is also the Dean of Students.
Were he not coaching, Talley would have been in Ann Arbor watching a game. But not the game. He would have watched his daughter, Huron junior guard Devin Talley, score nine points in a 58-34 win over Monroe.
Asked if her father prefers watching her games over the Wolverines', Devin said, "Yes, definitely. (If not for practice) he would definitely be here."