Posted on
Tue, Feb 7, 2012 : 11:19 p.m.
Ypsilanti dominates Skyline as Derrick Richardson returns to lineup
By Matt Durr
After missing more than two weeks worth of basketball, it took Ypsilanti High School point guard Derrick Richardson a little time to get back into game-playing mode on Tuesday. He scored only two points in the first half against Skyline.
But once the second half started, Richardson took over.
He scored 14 of his game-high 16 in the second half in Ypsilanti's 67-45 win.
"I just came out like 'can't nobody stop me' and I just showed em," Richardson said. "I saw a lot of open holes for me to attack in."
Richardson returned to the lineup after sustaining a back injury two weeks ago. After the game, he spoke about the injury and how it felt to be back on the court.
More coverage on MLive.com: Boxscore | Basketball roundup
"I still got a little pain, but I'm just trying to fight through it," Richardson said.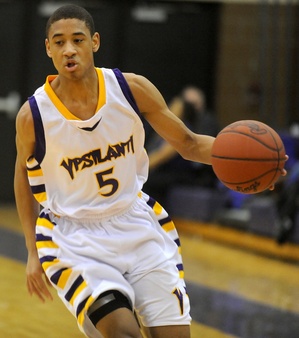 AnnArbor.com file photo
The Phoenix (10-3, 7-0 SEC White) opened the game with a two quick baskets, but would struggle to score for the rest of the quarter. Luckily for Ypsilanti, Skyline's struggles were worse. The Eagles managed two points in the opening stanza, despite numerous open looks.
"I was happy with the flow, I thought we were just a little bit rushed," Skyline coach Mike Lovelace said. "We just could not get any type of rhythm. I don't know what we shot, but it was probably 20-25 percent."
As the second quarter started, both offenses continued to clang shots off the rim, but it was Ypsilanti's ability to capitalize on second-chance shots that made the difference.
"That was kind of one of the keys to the game," Ypsilanti coach Steve Brooks said. "We wanted to stress pounding the glass."
Mamadou Ba was especially helpful on the boards, pulling down 12 rebounds, including six on the offensive end, to go along with his four points.
Despite being outrebounded, Skyline (7-6, 3-4 SEC Red) kept the game within reach, trailing 22-13 at the half. The score could have been closer, but Skyline turned the ball over nine times in the first half, adding to its offensive woes.
"One of the keys was taking care of the ball for sure," Lovelace said. "They're able to stay in front and pressure and they play great half-court defense."
Once the third quarter started, that's when Richardson took over and helped push the lead into double digits.
Brooks was happy to have Richardson back, but not just for his offense.
"He really buys into our defensive scheme first of all, but he also takes pride in really shutting down the man that he is guarding," Brooks said.
Theron Wilson led the way for Skyline with 14 points and six rebounds, but was held largely in check for most of the game by Richardson.
"He's (Wilson) a good player," Brooks said. "If a kid earns his points, that's fine. Theron's a good player, we just want to make him work to get them."
Before the game, Richardson was receiving treatment for his back injury so he could play. Brooks said that showed how tough and committed to his team Richardson truly is.
Skyline was playing with a shortened bench and was missing three of its biggest players. According to Lovelace, starting center Jarrius Mann has been lost for the season for undisclosed reasons.
Skyline was also without Jordan Woods and Marquis Wesley., but Lovelace said he expects those two back next week.
Because of those missing pieces, Lovelace turned to his bench to fill in and looked at the challenge in a positive light.
"This was really tough for them to come out and need to step up," Lovelace said. "I feel like we gained confidence in the first half that we could defend them."
Contact Matt Durr at mattdurr@annarbor.com.