Posted on
Tue, Jul 26, 2011 : 4:26 p.m.
JuCo transfers counted on to make an immediate impact for Eastern Michigan football team
By Rich Rezler
The Ron English mantra at the Mid-American Conference football media day was building on a foundation.
As he moved from station to station, conducting interviews with various media outlets at Ford Field on Tuesday, the third-year Eastern Michigan coach repeated a version of the same message: "We're at a point where we can build upon a foundation as opposed to digging that foundation."
After two wins in his first two years in Ypsilanti, English says he's bringing a "sturdier" and "more developed" team into the 2011 season thanks, in part, to an injection of talent from the junior college ranks.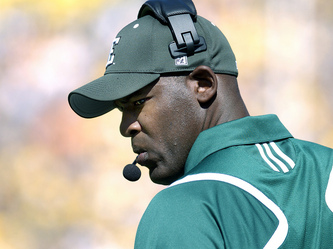 AnnArbor.com file photo
There are seven new junior college transfers (10 total) on the Eagles' roster this season, and they're all on the defensive side of the ball - where Eastern needed significant help.
Out of 120 teams playing Division I FBS football, the Eagles were 119th in passing efficiency defense, 118th in rushing and scoring defense, and 113th in total defense in 2010.
Needing some immediate help, English and defensive coordinator Phil Snow hit junior colleges hard and may have come up with an entire batch of starting linebackers.
Justin Cudworth, from College of the Canyons in Valencia, Calif., was a spring standout and has wrapped up a starting spot.
Sean Kurtz and Blake Poole, both from Santa Ana Community College, are battling for starting spots against returning players like Marcus English, Steve Brown and Matt Boyd - who have 18 career starts among them.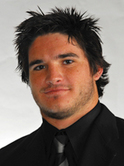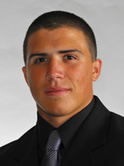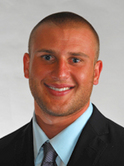 "Bringing those guys in helped raise the level of play for the guys who were here," English said. "We've got a real shot, at that position, to raise our level of play and we needed to do that with our stand-up players on defense."
Recruiting junior colleges can be a risky proposition, but one English thinks his staff is well suited to handle.
English recruited the junior college circuit hard during his five-year stint as a position coach at Arizona State, before he joined Lloyd Carr's staff at Michigan in 2003. Snow's main recruiting responsibilities for Eastern are junior colleges in Arizona and California -- an area he became familiar with at Arizona State and other West Coast schools.
That experience, English says, leads his staff to the right programs with the right coaches and helps them select the right players.
"They're (at junior college) for a reason. Maybe they developed late, maybe they weren't a good student, bad habits, whatever," English said.
"They're there for a reason, so they have faults. You just need to know what they are. Can you work with them and deal with them? And can you make them better?"
Another key is finding players who are academically eligible to transfer prior to the winter semester and, therefore, take part in spring practices. All but one of Eastern's junior college transfers were enrolled in January.
The transfers made an impression on third-year starting quarterback Alex Gillette during spring ball.
"Playing against them, I can see they can all play right now," he said. "They're ready to go, and I think they'll really help us."

Getting better late
English said his team didn't have the ability to "finish" games last season. In Eastern's 10 losses, the Eagles were outscored 244-53 in the second half and 116-20 in the fourth quarter.
"There's a mental stamina that you have to have as well as a physical stamina," he said. "We're going to work hard to train mentally and physically to develop enough stamina to finish games."

Eagles picked sixth
The Eagles may feel they're improved, but that wasn't enough to keep them out of the basement in the MAC media poll.
Eastern was picked to finish sixth in the six-team MAC West Division by a 16-member MAC News Media Association panel.
Toledo is the favorite to win the division and the overall league championship.
Here is the entire poll, with total points and first-place votes in parentheses:
WEST DIVISION
1. Toledo (8), 83
2. Northern Illinois (5), 81
3. Western Michigan, (2), 76
4. Central Michigan (1), 55
5. Ball State, 27
6. Eastern Michigan, 24

EAST DIVISION
1. Miami (4), 97
2. Ohio (8), 96
3. Temple (4), 88
4. Kent State, 57
5. Bowling Green, 48
6. Buffalo, 37
7. Akron, 25

MAC championship winner: Toledo.