Posted on
Tue, May 15, 2012 : 12:28 p.m.
Michigan athletic department spent $111.8 million in 2011, had total revenue of $122.7 million
By Nick Baumgardner
The University of Michigan athletic department spent money to make money in 2011.
According to a USA Today report, Michigan was one of the biggest spenders in America last year. In doing so, it had one of the highest total revenue numbers of any NCAA Division I public school.
Per the report, Michigan spent $111.8 million on athletics a year ago, the third-highest number of any school in the country. The Wolverines also received $122.7 million in total revenue, fifth-best in America.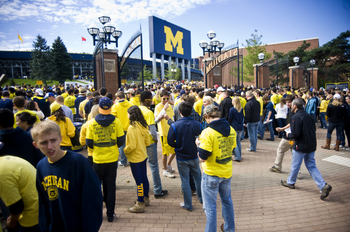 Melanie Maxwell | AnnArbor.com
The $111.8 million spent was a $22.7 million increase from 2010, while the total revenue number was up $15.9 million.
A breakdown of Michigan's revenue and expenses:
Revenue
Rights/Licensing: $46,745,506
Ticket sales: $41,688,589
Contributions: $27,961,623
Other revenue: $6,090,650
School funds: $272,684
Student fees: $0
Expenses
Coaching staff: $37,754,836
Other expenses: $32,822,376
Building/Grounds: $24,944,126
Scholarships: $16,323,215

Across Washtenaw County, Eastern Michigan had $27.7 million in revenue and $25.9 million in expenses. A majority of its revenue came from subsidies, including school funds ($21.2 million) and student fees ($1.5 million).
Neither of the state's two other Mid-American Conference schools claim revenue from student fees. Western Michigan used $18.6 million in school funds as part of its $25.6 million revenue. Central Michigan used $16.6 million in school funds in its $23.5 million revenue.
Texas spent $133.7 million in 2011, which was $11.3 million more than any other athletic department. The Longhorns also earned more revenue than anyone, bringing home $150.3 million.
Ohio State was No. 2 on the list in both expenses ($122.3 million) and revenue ($131.8 million).
Michigan State had the 14th-highest expenditure ($84 million). Its revenue number was $505,970 higher than its expenses.
Michigan's $27.9 million in contributions was up from the $19.3 million it received in 2010.
The overall budget for Michigan's coaching staff was up $4.5 million from a year ago, as well. The Wolverines' $37.8 million spent on coaches was higher than any other Big Ten school.
The total operating expenses for schools in the Big Ten (except Northwestern, a private institution) is as follows:
1. Ohio State: $122.3 million
2. Michigan: $111.8 million
3. Penn State: $101.3 million
4. Wisconsin: 95.6 million
5. Iowa: $93.4 million
6. Michigan State: $84.5 million
7. Nebraska: $83.7 million
8. Minnesota: $78.9 million
9. Illinois: $77.7 million
10. Indiana: $71 million
11. Purdue: $66.2 million

Nick Baumgardner covers Michigan sports for AnnArbor.com. He can be reached at 734-623-2514, by email at nickbaumgardner@annarbor.com and followed on Twitter @nickbaumgardner.