Posted on
Sun, Mar 4, 2012 : 10:50 p.m.
Michigan basketball team reflects on rushing home to celebrate Big Ten championship
By Kyle Meinke
It was bad enough that, after four grueling seasons of raising the Michigan basketball program from the ashes, Zack Novak was only a game away from a Big Ten title — and it wasn't his game.
After winning at Penn State earlier Sunday, he needed to root for rival Ohio State to knock off Michigan State later in the day. And he wasn't ready to punctuate all he's meant to this program while sitting in a bus seat traveling back to Ann Arbor.
So, he told the bus driver to step on it.
"Zack wanted to drive the bus," quipped teammate Tim Hardaway Jr., "like he was NASCAR or something like that. He was going insane.
"That's Zack being Zack."
Now, Zack, fellow seniors Stu Douglass and Cory Person and the rest of the Wolverines are something else: Big Ten champs.
Ohio State upset Michigan State 72-70 at the Breslin Center, meaning those two and Michigan each finish the Big Ten season 13-5. It's an outcome that was greeted with uproarious cheers from the Wolverines, particularly after that victory at one point seemed unlikely.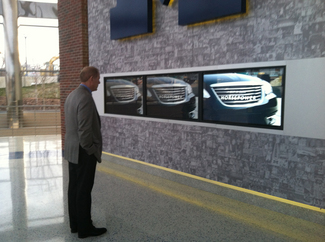 Kyle Meinke | AnnArbor.com
Michigan coach
John Beilein
said as the team boarded their charter flight in Happy Valley, the Buckeyes trailed about 22-9.
"So I wasn't really optimistic about the score when we'd land," he said.
Players tried to relax on the flight, knowing the outcome was out of their control. Hardaway said he took a nap. Novak played Tiger Woods Golf and word scrambles on his iPad.
But when the Wolverines landed at Willow Run Airport in nearby Ypsilanti, it was a six-point game, and the race back to the William Davidson Player Development Center was on.
The bus arrived at the PDC with just more than 4 minutes remaining in a 62-61 game. With their title hopes hanging in the balance, most of the team retreated to a video room to watch the finish.
"The scene felt like Ohio State was our best friends," Hardaway said. "I felt like everybody was like, 'Ohio State! Yeah!' We're enemies, we're not supposed to be rooting for them."
But not everyone went to the video room. At least, not right away.
As players scattered, Beilein lingered for a few moments in the lobby with one reporter and three fans — including one in a winged hard hat — who had waited out the team's arrival.
Beilein swayed his body with every Ohio State shot and muttered just loud enough to be audible, yet not understood. When Michigan State forward Draymond Green sunk a shot to tie the game back up, he exclaimed to no one in particular, "He's the man, isn't he?"
Meantime, Colton Christian cordoned himself in a corner of the lobby, out of view of the TVs. He repeated over and over, as he paced with his fists clenched and head bowed, "C'mon, c'mon guys."
Douglass retreated to a downstairs locker room with teammates Jordan Morgan and Blake McLimans, but those two left moments later. Douglass stayed behind by himself.
"It was getting crazy," he said. "I feel like I deserved that time alone a little bit. Everyone was trying to get me to go up, but I was just like, 'Let me be.'"
Douglass reflected. He reflected on a program that will play in a third NCAA tournament in his four years, what he and his classmates have accomplished, and how that would be legitimized with a banner, if only the next 4 minutes went his way.
With 30 seconds left, he collected himself and joined his teammates in the video room. When Ohio State's William Buford drilled a 20-footer to give the Buckeyes a decisive 72-70 lead with 1 second left, the place erupted.
"I did not expect it to go in," Douglass said. "I think Matt (Vogrich), someone, ran in front of me, I didn't see it midpoint through the air. But I saw it swish through, and it was crazy."
What was Novak doing?
"Had my shirt off, on my head, screaming and jumping on chairs and going crazy," he said. "(The shirt was my) rally cap. Was feeling it, thought they needed to go on a run. I was just feeling it in the moment.
"Way to go, William."
Michigan earned a share of the Big Ten championship for the first time since 1985-86. Not even greats such as Jalen Rose, or Chris Webber, or Robert Traylor, or Jamal Crawford accomplished what Novak and Douglass — two lightly recruited prospects from Indiana — did Sunday night.
"Guys have been told time and time again, you know, that we suck," said Novak, when asked what he was thinking about as the clock hit 0:00. "To get (the title), it's just sweet."
Beilein went 5-13 in his first Big Ten season, and 10-22 overall. In four seasons at Michigan, he never had a winning record in the league. In his fifth, he won the whole thing.
Beilein said the title is meaningful to him because of where the program was when he first was hired five years ago, and even where it was one week ago, when a loss to Purdue left his team two games back.
But they fought, and they won their championship in the country's finest league.
"We knew as soon as that horn went off today that we were champions," Beilein said. "And in a 12-team league, I know we're tri-champs or whatever people call it, but I don't care. This league was at its best this year."
Beilein made those comments in an eight-minute interview with two reporters. He was all smiles, and appeared as disarmed as he has been in weeks. His long day was accentuated when a Michigan staffer brought him a coffee — it was nearly 9 p.m. — but his peacefulness was apparent.
He had captured his first league championship since winning the Colonial Athletic Association with Richmond in 2001.
"I won't do anything tonight," he said, leaning back in his chair. "I'm going to go home and have dinner. (My wife) Kathleen made a really nice dinner, she already has for me, and I'm going to go home and just sit. Just sit — and, hopefully, I'll sleep like a baby tonight.
"But I doubt it."
Kyle Meinke covers Michigan football for AnnArbor.com. He can be reached at 734-623-2588, by email at kylemeinke@annarbor.com and followed on Twitter @kmeinke.