Posted on
Sat, Jan 14, 2012 : 7:25 p.m.
Michigan checks out Frozen Diamond Faceoff rink at Progressive Field
By AnnArbor.com Staff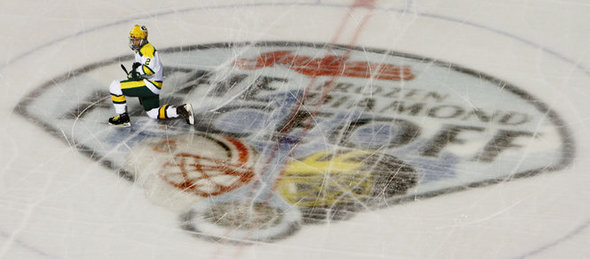 Cleveland Plain Dealer
The Michigan hockey team had an hour-long practice on the outdoor rink at Progressive Field in Cleveland on the eve of its Frozen Diamond Faceoff game against Ohio State.
MGoBlue Video captured the Wolverines arriving at the Major League Baseball stadium and spoke to coach Red Berenson and several players about the venue.
"It's really neat when you first go out there and you see the rink and its situation in a ballpark," Berenson said. "I've never seen anything like that before. They've done a great job. It's real winter carnival atmosphere."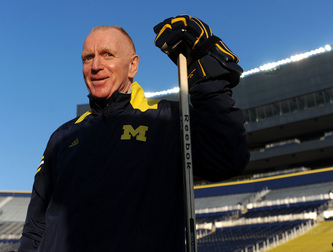 AnnArbor.com file photo
In fact, there is a winter carnival going on around the ice rink. This is the second year the Cleveland Indians have sponsored Snow Days, a month-long outdoor festival.
It includes "The Batterhorn" tubing hill that starts behind the stadium's left-field wall and runs more than 200 feet to where second base would be located and an ice skating path that loops around the ballpark.
While the setting is different, the outdoor game experience is nothing new for many members of the Wolverines' roster. They've played in outdoor games each of the past two seasons -- the Camp Randall Classic in Madison, Wis., in February 2010, and the Big Chill at the Big House at Michigan Stadium in December 2010.
Still, there's an aura surrounding any outdoor game, particularly one played in front of a large crowd. Attendance estimates for Sunday's 5:05 p.m. faceoff on Fox Sports Plus (Comcast channel 901 in Ann Arbor) have ranged between 25,000 and 40,000.
"It's pretty special," fifth-year senior goalkeeper Shawn Hunwick told MGoBlue Video. "You only get to play in so many in your career, and we're lucky enough for it to be our third one."
Ohio State isn't as familiar with the outdoor game. None of the current Buckeyes were on the roster when Ohio State played Wisconsin at Lambeau Field in Green Bay, Wis., in February 2006.
That's why OSU coach Mark Osiecki - an assistant at Wisconsin when Michigan played at Camp Randall Stadium - was glad his team visited Cleveland last week to get a taste of what to expect Sunday. Wind is just one thing, he told the Cleveland Plain Dealer.
"The wind was coming right out of right field," he told the newspaper. "You had to lean into it, and then you turned around and coming back you almost didn't have to skate, it just blew you down the ice."
No. 15-ranked Michigan (13-8-4, 7-6-4-1 CCHA) enters the game fresh off a 4-0 win over the No. 2 Buckeyes (14-5-3, 10-4-3-1) Friday at Value City Arena in Columbus, Ohio.
Hunwick made a career-high 46 saves for the Wolverines, recording his third shutout of the season and eighth of his career. His last shutout, a 1-0 overtime win at Alaska on Dec. 3, started Michigan's current string of eight games without a loss (6-0-2).
Highlights from Michigan's 4-0 win on Friday night: