Posted on
Wed, Mar 27, 2013 : 5:59 a.m.
Michigan defenseman Jacob Trouba unsure if he'll turn pro, Jon Merrill likely gone
By Kyle Austin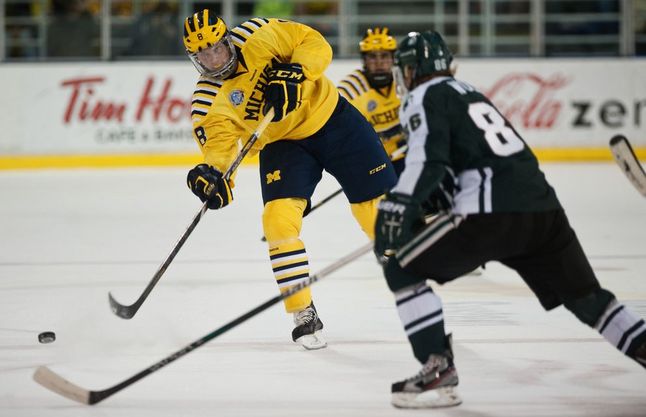 Two of Michigan's best defenseman could both have played their final games in a Wolverines uniform Sunday.
Freshman Jacob Trouba said he is in the process of deciding between returning for his sophomore season and signing with the Winnipeg Jets, and Wolverines coach Red Berenson said junior Jon Merrill is likely to move on to professional hockey.
"I'm leaning towards it's going to be time for Jonny to move," Berenson said Tuesday. "I think (the New Jersey Devils have) been really patient."
Merrill participated in the team's optional workout on Tuesday but was not available for comment.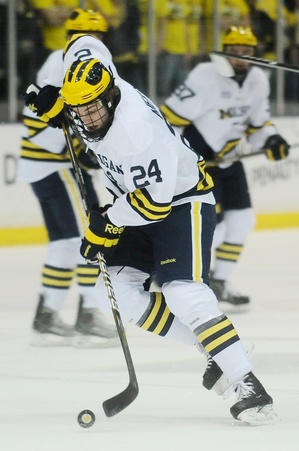 AnnArbor.com file photo
Trouba was picked
ninth overall by the Winnipeg Jets in the 2012 NHL Draft
. After a standout freshman season, he said he doesn't have a timetable for making a decision.
"I'm just trying to feel it out kind of and get everything sorted out, and however I feel and what I think is best for me is what I'll do," Trouba said.
Trouba finished the season with 12 goals and 15 assists, one goal shy of the record for a Wolverines freshman defenseman. He was named the CCHA's Best Offensive Defenseman, was named All-CCHA first team and was a finalist for Rookie of the Year.
"He's done as much as he can do for a freshman, when you think about what he's done his freshman year," Berenson said. "I couldn't deny him if he wanted to leave. On the flip side I could understand completely if a kid like that wanted to come back and grow another year and get a little more confident."
Trouba called the season "one of the most fun years I've had playing hockey on and off the ice.
"I think I've learned a lot about me as a person, about the game of hockey," Trouba said. "There's not really a wrong decision to make, but there's definitely one that could be more beneficial. I'm just going to wait it out and see how I feel."
That season ended Sunday with Michigan's loss to Notre Dame in the CCHA tournament final. The loss snapped the Wolverines' 22-year NCAA tournament streak.
Trouba said while that fact this season saw the streak end is disappointing, but it can't factor into his decision.
His defense partner late in the season, senior-to-be Mac Bennett, said having Trouba back for another season would be a huge boost.
"I will be in that kid's ear until he finally makes a decision," Bennett said. "Either way he's a hell of a player that could do whatever and he's still going to be OK. But if he stays, we're going to have a chance to do something really, really special."
Berenson said Merrill could have gone pro after a standout freshman season that included seven goals and 18 assists, or after a sophomore year marked by an early season suspension.
This year saw him miss the first half of the year with a cracked vertebrae, but return to record 11 points in 21 games.
"I think the kid on one side wanted to come back and finish, and the other side is excited about the next step," Berenson said.
Seven other Wolverines underclassmen have their NHL rights owned, most notably sophomores Alex Guptill and Phil Di Giuseppe. Berenson said he doesn't expect any of them to turn pro, but said that he's "said that before and I've been surprised."
Senior Kevin Lynch has an agreement to join the Columbus Blue Jackets' minor league affiliate, Berenson said, and Lindsay Sparks has agreed to join the Fort Wayne Comets of the East Coast Hockey League.
Kyle Austin covers sports for AnnArbor.com. He can be reached at kyleaustin@annarbor.com or 734-623-2535. Follow him on Twitter @KAustin_AA.