Posted on
Wed, Mar 28, 2012 : 1:36 p.m.
Michigan goalie Shawn Hunwick will be in uniform against Red Wings Wednesday
By Pete Cunningham
This story was updated at 2:23 p.m.
The Shawn Hunwick story just keeps getting better and better.
The former Michigan hockey walk-on goaltender will dress for the Columbus Blue Jackets Wednesday night against the Detroit Red Wings (7:30 p.m., NBCS).
According a representative with the Blue Jackets, the team will sign Hunwick to an amateur tryout contract.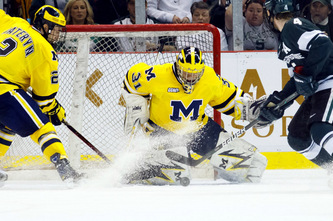 AP Photo
"Columbus called us today and told us that one of their goalies got hurt this morning. They asked if Hunwick was available," Michigan coach Red Berenson said in a statement released by the university. "I called Hunwick and he said he was available and so he's on his way down there. I'll be watching on TV. He obviously has my blessing."
Steve Mason was scheduled to start in net for the Blue Jackets but was injured during a Wednesday morning practice, according to the team spokesman.
Backup Allen York will get the start and Hunwick, less than a week removed from his last college start, will be the No. 2 goalie. He will wear the No. 31 sweater.
Hunwick said on Monday that he planned to explore professional playing options, listing the East Coast Hockey League, American Hockey League and international leagues as options.
He certainly didn't expect to be suiting up for an NHL team two days later, even stating "I might have to get a real job soon."
The Blue Jackets are the worst team in the NHL, trailing the Edmonton Oilers by 16 points.
Mason gave up six goals on 28 shots in a 7-2 loss to Detroit on Monday and was pulled in favor of York for the second straight game. York allowed a goal on 11 shots.
"We could've had Patrick Roy in there, Ken Dryden, wouldn't have mattered," Blue Jackets coach Todd Richards said after that game. "You can't fault the goaltender on the first four. It was too easy for them."
Berenson expressed his confidence in Hunwick, who he recruited as a third-string goalie and watched grow into a Hobey Baker Award finalist.
"Hunwick, I wouldn't blame him if he never played again, what's he going to prove after now? And yet if he does play he might prove that he can play in the NHL, who knows?" Berenson said. "He wouldn't be out of place tonight if he played somewhere."
We just might find out soon.
The Associated Press contributed to this report.
Pete Cunningham covers sports for AnnArbor.com. He can be reached at 734-623-2561, by email at petercunningham@annarbor.com and followed on Twitter @petcunningham.