Posted on
Thu, Mar 25, 2010 : 5 a.m.
Michigan hockey defenseman Steve Kampfer leaves the past behind to enjoy the fruits of the present
By Jeff Arnold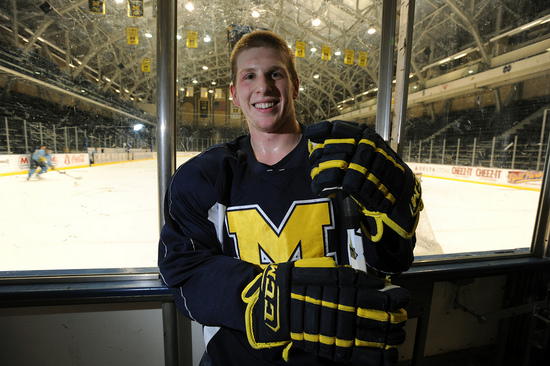 Steve Kampfer knew he couldn't move forward while burdened by the pain and anxiety of a rough 12 months.
If he was to reach the potential Michigan hockey coach Red Berenson saw in the hard-nosed defenseman, if he was to contribute the way Kampfer knew his teammates expected, he had to let everything go.
But God knows, it wouldn't be easy.
There was so much to forget about. So much to grow from. So much to put behind him.
Kampfer considers himself a better man today. But it wasn't until he processed it all - the early-morning assault that left him with serious head injuries and an on-ice attack that left him laid out and motionless - that Kampfer was able to look forward.
He rarely revisits the events that forced him to miss eight weeks of a junior season he had hoped to use to prove that he belonged on Michigan's roster. But if anything, the adversities he endured provided perspective for a senior year in which he and his teammates have overcome a series of obstacles to reach the NCAA tournament.
In his team's experience, Kampfer sees himself.
"If I were to think a year in advance (back then), I'd say there would be no chance I am anywhere close to where I am now," Kampfer said this week. "But I think I used it more as motivation - you kind of want to show everyone that you're OK and that you could be fine."
Up until last season, Kampfer's hockey career at Michigan was hardly exceptional. He spent his first two years struggling to meet the expectations set before him while fighting conditioning issues and nagging injuries.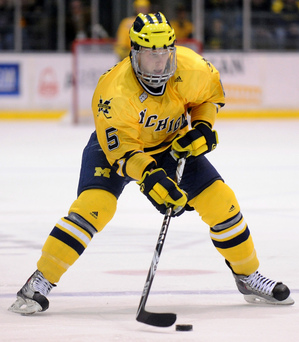 In addition to his hockey struggles, he was at a university where academic excellence was difficult to come by even for those who didn't have the rigors of a seven-month season to contend with. At times, Kampfer fell short. In other instances, he showed the promise that caught Berenson's attention when Kampfer was a junior hockey player from Jackson. The inconsistencies were easily noticeable.
"He just never got it together," Berenson said.
Yet, for everything Kampfer went through just to earn his keep, nothing could prepare him for what awaited him.
In the early-morning hours of Oct. 12, 2008, Kampfer was walking with a friend when three men approached from behind. Witnesses told police that one of the men passed Kampfer and his friend and shoved Kampfer's friend aside. The third man - who was later identified as former Michigan football walk-on running back Mike Milano - picked Kampfer up and slammed him to the ground during an alcohol-fueled altercation that allegedly centered around the treatment of a female. Kampfer was under age and witnesses testified he was intoxicated and abusive before the altercation.
Kampfer suffered serious injuries that forced him to miss 16 games. He said he battled post-traumatic stress that resulted in panic attacks and required him to undergo psychiatric treatment twice a week.
Kampfer also struggled with belonging in the Michigan hockey program, feeling separated from the teammates he was forced to watch play rather than being able to have a part in the Wolverines' on-ice success.
After returning in December, Kampfer began to play well, finding his niche' among Michigan's defensemen. But in the final minute of a 5-3 victory over rival Michigan State at Yost Ice Arena on Jan. 25, 2009, Kampfer was attacked by Andrew Conboy, who clothes-lined Kampfer and punched him from behind, sending him to the ice.
With Kampfer lying motionless by the boards, Michigan State's Corey Tropp followed the hit by swiping at Kampfer's neck with his stick. Moments before, Kampfer had knocked Tropp off his feet in a clean open-ice hit, making the Michigan defender a target for his opponents.
The two Michigan State players were suspended for the remainder of the season and Kampfer had to deal with the distractions of an on-the-ice incident that again made him the center of attention.
Since then, he has received an apology from Tropp through friends and has told the Michigan State forward that he holds no ill will toward him. Although he came back to finish the season, Kampfer was forced to put everything - both the good and bad - in perspective.
"He was thankful just to be playing by the end of the year," Berenson said. "But this year, he's been a different player, and he's become so much of a better player because of that. He's finally playing at the level that everyone thought he could."
He opened his senior season without baggage, providing a fresh start to Kampfer, who Berenson has grown - on and off the ice after enduring last season's adversities.
Kampfer met routinely with Berenson. The two talked about the areas Kampfer needed to improve, on and off the ice. The private sessions not only helped Kampfer realize how far he had come, but also how much room he had to grow.
"It was a year of hell," Kampfer said. "With everything I went through, you take things for granted and you want to make sure you're not missing out on certain aspects of life and you're not taking things for granted. So when I came into this year, I was excited, I was happy to play hockey.
"It was a second chance to get back and play hockey, and I wanted to make it everything I could."
Kampfer leads Michigan defensemen with a plus-16 ranking, points (22) assists (19) blocks (48), power-play scoring (2-12-14) and shots (109). Kampfer has also become the defensive force and leader Berenson hoped he would.
In recent weeks, Kampfer has been among the collection of defensemen that have been required to pick up the slack with the absence of senior captain Chris Summers. He's been among the Wolverines' most reliable blue line performers, aiding in Michigan's magical post-season run.
Last weekend, Kampfer celebrated on the Joe Louis Arena ice with his teammates after the Wolverines earned their 20th straight NCAA tournament appearance with a CCHA tournament title.
As he took his turn hoisting the Mason Cup into the air, Kampfer said he relished a moment of celebration that made everything the Wolverines endured to get to this point vanish. Yet, for all of the obstacles Kampfer and his teammates cleared to capture the CCHA tournament title, they all had new meaning for the defenseman that had worked so hard to leave the past behind him.
But as he has learned from his life experiences, it's Kampfer's past that makes the present all the more rewarding.
"Just with going through a lot in my first couple years physically and mentally, just using that helped me take everything into consideration," Kampfer said. "I don't think a lot of guys could relate to that on the same level I could. I think that put a lot of things this year into perspective for me.
"Just knowing that helped me realize that things were going to turn around for us."
Jeff Arnold covers Michigan hockey for AnnArbor.com. He can be reached at jeffarnold@annarbor.com or 734-623-2554. Follow him at Twitter @jeffreyparnold.