Posted on
Fri, Mar 16, 2012 : 11:33 p.m.
Michigan hockey team advances to CCHA final with double OT win over Bowling Green
By Pete Cunningham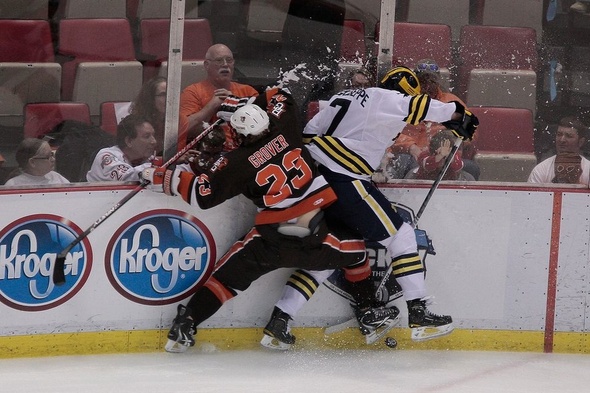 Chris Asadian | AnnArbor.com
Updated, 12:45 a.m..
DETROIT -- The Michigan hockey team was about to become another footnote in Bowling Green's historic CCHA Tournament run.
Never has a last-place team made the CCHA semifinals, but the Falcons already changed that last week.
Leading 2-0 with less than a minute remaining in the second period Friday night at Joe Louis Arena in Detroit, the Falcons looked like they were about to become the first team to go from the basement of the regular season standings to the tournament championship game.
It all changed with a little flick of the wrist and a funny bounce at the end of the second period.
That funny shot, and an even funnier bounce, turned into Michigan's first goal. The Wolverines would eventually force overtime and win, 3-2, on a Luke Moffatt goal one minute, four seconds into double overtime.
Jon Merrill lifted the puck over a Bowling Green defender's stick and bounced it toward Andrew Hammond with less than one minute remaining in the second period. The shot didn't have near the velocity or precision of the 30 shots Hammond had already stopped.
To even call it a shot is a stretch.
Shot or not, after taking a funny bounce off the ice just in front of Hammond, the puck went into the back of the Bowling Green net. Like a shortstop booting a routine ground ball, the look on Hammond's face was one of total disbelief, as if to say, 'did that really just happen?'
Yes, it did. And it gave Michigan life heading into the second intermission, trailing 2-1.
Related content: Photo Gallery
Hammond said he couldn't see Merrill's shot until it was too late.
"I kind of lost sight of it," said Hammond, who finished with 54 saves. "When I caught wind of it, I think it was just bouncing and couldn't' get down quick enough to make a save there."
David Wohlberg buried a Derek DeBlois behind-the-back pass with 2:34 remaining in regulation to force overtime for the third time in the Wolverines' four games this season at Joe Louis Arena, and set the stage for Moffatt's game winner.
Moffatt sat down at the table for the postgame press conference, paying no attention to the dozen or so media members in front of him. His sole focus was on the full bottle of water waiting at his seat.
The questions could wait.
Moffatt skated to the front of the net in double overtime the same way he attacked the water bottle. The same focus and disregard for the chaos around him.
"You knew it was going to be an ugly goal," Moffatt said. "I was fortunate it just bounced right to me and I was able to put it in."
Moffatt figured the game-winner would be an ugly goal because Hammond was stopping everything else that came his way.
"He stood on his head. We got a couple of posts, but he was on his game all game," Moffatt said.
Michigan (24-11-4) improved to 6-0 in games decided in overtime, advanced to its 16th championship game in program history and will attempt to win for the tenth time on Saturday (7:35 p.m., FSD) with a short turnaround.
"I can tell you we're going to be a tired team (Saturday)," Berenson said. "This will be a real test for our endurance and our recovery.
Shawn Hunwick finished with 35 saves for Michigan.
Michigan will face Western Michigan in the title game. The Broncos recorded a 6-2 win over Miami in the night's early semifinal. Runners up last year, WMU is making its first ever back-to-back championship game appearance.
Bowling Green's only shot at making the NCAA Tournament was to earn an automatic bid by winning the CCHA Tournament title. The Falcons (14-24-5) will end their season in the third place game at 3:30 p.m. against Miami.
Bowling Green coach Chris Bergeron needed a moment to compose himself before addressing the media following Friday's game. He described his admiration for a team that won just five regular season conference games, but came within a goal of the championship game.
"I'm extremely proud," Bergeron said, then paused for several seconds, fighting back tears. "Of our players and the resiliency they showed this whole year, in particular the past couple weeks."
Contact Pete Cunningham at petercunningham@annarbor.com or by phone at 734-623-2561. Follow him on Twitter @petcunningham.