Posted on
Sat, Feb 25, 2012 : 10:29 p.m.
Michigan hockey team ends its regular season with 3-0 win at Bowling Green
By AnnArbor.com Staff
Updated at 11:30 p.m.
Shawn Hunwick recorded a shutout in his final regular season game and the Michigan hockey team wrapped second place in the CCHA with a 3-0 win at Bowling Green on Saturday night.
After 45 minutes of scoreless hockey, Michigan's David Wohlberg finally beat Bowling Green goaltender Andrew Hammond at the 5:07 mark of the third period.
Kevin Lynch made it 2-0 at the 8:12 mark.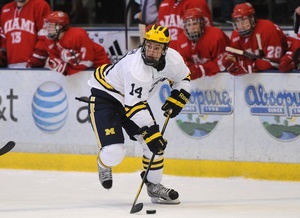 Angela J. Cesere | Ann Arbor.com
"Lynch was terrific tonight," said Michigan coach Red Berenson. "He's a playoff competitor type player and he showed that again tonight."
Bowling Green pulled Hammond relatively early in the third to try and spark a comeback, but Mac Bennett scored an empty-net goal at 17:51 to thwart such plans.
Hammond kept the Falcons in the game through two periods despite Michigan holding a 31-15 shot advantage. He finished with 47 saves while Hunwick turned away 22 shots to record his career-high fifth shutout of the season and tenth of his career.
Bowling Green ended a nine-game power play goal drought on Friday, but couldn't sustain the success through the series as Michigan successfully killed off nine penalties.
"I think the most important thing is that we bounced back with a better team effort and we're much better defensively," Berenson said. "We didn't expect to have to kill so many penalties, but I thought our team played harder without the puck. That was missing last night."
After failing to clinch home-ice advantage for the CCHA playoffs on Friday night with an underwhelming 4-3 loss, Michigan locked up a second seed in the upcoming CCHA playoffs with the win.
"It was a tough weekend. A lot was on the line and we came out with a less-than-stellar effort last night," Hunwick said. "I don't know what it was; it just didn't seem like we were into it. Tonight was a big bounce back win."
The CCHA playoffs will commence next weekend, but Michigan will have a bye and await the second lowest seed to emerge as each round is reseeded.