Posted on
Thu, Jan 19, 2012 : 5:59 a.m.
Lines are stable and the Michigan hockey team is on a 9-game tear
By Pete Cunningham
Michigan hockey coach Red Berenson shuffled his offensive lines at the beginning of the season to determine which combination of forwards would have the best on-ice chemistry.
In a weekend sweep of CCHA-leader Ohio State, the line of Chris Brown, Alex Guptill and David Wohlberg accounted for four of the eight Michigan goals and combined for 11 points.
No other combination of three players accounted for more than six points in the two wins over the Buckeyes.
It's safe to say Berenson won't be re-shuffling the lines again any time soon.
"We've kept our lines together pretty consistent since our team got consistent," Berenson said.
Michigan has gone nine games without a loss (7-0-2) and beaten two top-5 teams in that span. A two-game series at No. 6 Notre Dame is up next, with games at 7:35 p.m. Friday (NBC Sports Network) and 7:35 p.m. Saturday (CBS Sports Network) at the Compton Family Ice Arena.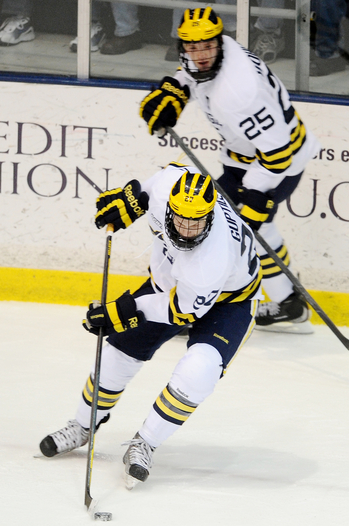 Melanie Maxwell I AnnArbor.com
Guptill, Wohlberg and Brown have scored 12, 11 and nine goals, respectively, this season, but it's not just the allure of having the team's top three offensive weapons on the ice together that's attractive to Berenson.
He said he likes the chemistry of the other lines, too, even though scoring might not be the immediate result.
"Everyone's talking about Wohlberg, but ever since we put Luke Glendening with A.J. (Treias) and Phillip (Di Giuseppe), that's a much better two-way line than it was before," Berenson said.
The top line's ability to produce is of primary importance for the other lines to be successful.
"It's huge because they're a line that maybe is getting a lot more attention from the other team," Berenson said. "That takes some of the pressure off of our other lines."
Brown and Wohlberg's production is to be expected.
A senior, Wohlberg was the team's top returning goal-scorer and Brown, a junior, was third. That Guptill, a freshman, is making such significant contributions already, however, has been unexpected. ... Sort of.
"I just did the work that I thought I needed to do to be successful and come in and contribute right way," said Guptill. "I mean, I wasn't expecting, obviously, to lead the team in goals, but I definitely had high hopes to come in and contribute."
And while overworking freshmen may be a concern in some sports, that shouldn't be the case with Guptill, who, like most college hockey players, has a few years of high-level juniors under his belt. Guptill, who will be 20 this spring, played in 43 games last year for the Waterloo Black Hawks of the USHL.
"I'm fairly confident right now that I'm putting in the work that I need to put in order to be successful the rest of the year. Just doing the little things in practice, that sort of thing," Guptill said. "Once you step out and it's a real game, you're just another player out there. It doesn't matter how old you are. You're just trying to do what you need to do to help the team win."

Less rest
Michigan goaltender Shawn Hunwick missed some practice last week, as did Guptill.
The result of their lost time: Hunwick had a career high 46 saves in a 4-0 win over Ohio State on Friday and another 31 in a 4-1 win Sunday. Guptill had two goals and two assists in the sweep.
Guptill was named the CCHA offensive player of the week and Hunwick the goaltender of the week.
Maybe they should miss practice more often? Not so fast.
Michigan coach Red Berenson said it's not quite time to be resting players thinking of postseason play. Especially considering the team's more than two-week layoff over the holidays.
That's fine by Hunwick and Guptill, who both say the less rest the better. Both said it took them a while to find a rhythm in the weekend series.
"Once you take yourself out of practice a little bit, you lose a little bit of your groove," Hunwick said. "Ohio State shoots a lot, so that was nice. I got a little bit of a rhythm and then carried over to Sunday."
"I kind of felt the opposite (of rested) actually. It was tough getting back into it, after I missed one day there," Guptill said. "The Friday game I felt alright and then Sunday I ended up feeling pretty good."

Moving up in the standings
Michigan entered last weekend in seventh place in the CCHA standings, trailing Ohio State by 11 points. After a weekend sweep, the Wolverines are in third, five points off the lead.
Berenson said there's no use worrying about where they stand with 10 league games left to play and nine of 11 teams within nine points of the top.
"It's going to come down to the last game, sure enough. Whether we're in the hunt or another team is," Berenson said. "There's probably five teams that realistically could finish in first place. I'm not worried about that I'm just worried about this weekend."
Pete Cunningham covers sports for AnnArbor.com. He can be reached at 734-623-2561, by email at petercunningham@annarbor.com and followed on Twitter @petcunningham.