Posted on
Thu, Feb 2, 2012 : 5:59 a.m.
Michigan hockey team optimistic about David Wohlberg injury
By Pete Cunningham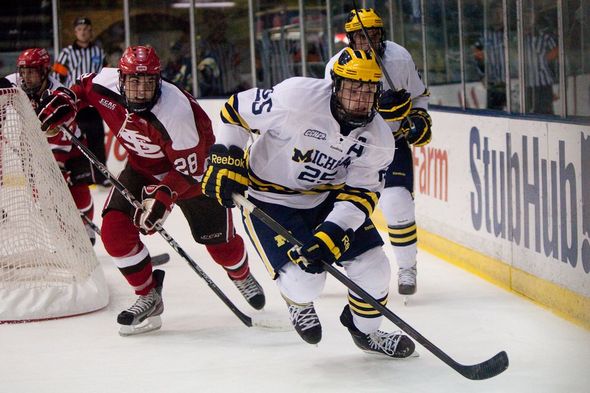 It was a week with no games, but it wasn't necessarily a quiet week for the Michigan hockey team.
Senior David Wohlberg, who is tied for second on the team in scoring with 25 points (11 goals, 14 assists), was held out of practice Monday and Tuesday after suffering what coach Red Berenson described as an "upper body injury" last week. After colliding with a teammate during a skills competition on Thursday, Wohlberg had his right arm in a sling.
Wohlberg missed the last seven games of last season after suffering a displaced collarbone and had his two final seasons of junior hockey ended with broken collarbones.
Wohlberg skated without the team before Tuesday's practice and participated on Wednesday. Berenson said that he expected him to participate Thursday and play this weekend against Miami. (7:35 p.m. Friday and Saturday at Yost Ice Arena).
"He should be good to go," Berenson said. "If he plays he'll be ready and if he doesn't play it'll be because we're concerned about him."
Berenson said Wohlberg's history of injury has the team taking extra precautions, which he said they could afford to do because of Wohlberg's conditioning.
"He's a good skater," Berenson said. "A few days off doesn't affect his wind as much."
Wohlberg, a senior, is playing the best hockey of his career of late with a career best six-game point streak. His 10 points (3G, 7A) in that span is as productive as he's been in a six-game stretch since his CCHA Rookie of the Year campaign.
"I think every time he steps on the ice you can just see there's that sense of importance that maybe wasn't there a couple months ago," Berenson said. "You just hope that he has better luck (with injuries) this year than he had last year."
Wohlberg switched to center on the Wolverines' top line earlier this season and its translated to more production for him and his linemates Alex Guptill (14G, 12A) and Chris Brown (9G, 16A).
"That line has been huge for our team ... playing center, (Wohlberg's) more involved," Berenson said. "The game starts with faceoffs, so he get more involved. When he's more involved he plays better."
In Wednesday's practice, Wohlberg played right wing most of the time with Guptill taking the majority of faceoffs in an attempt to limit his contact.
Wohlberg also played a key role in Michigan's power play getting out of its funk last week with a pair of second assists on special teams against Notre Dame. "He's a lead by example kind of guy with his play on the ice," said captain Luke Glendening.
Jeff Rohrkempfer filled in for Wohlberg on the line with Guptill and Brown at Monday and Tuesday's practices. Rohrkempfer has played in just six games this season (one in the past 18) and has one assist.
Despite Wohlberg's obvious importance to Michigan's production, the team is optimistic about even the most pessimistic of outcomes.
"Having Wholly out, I mean obviously it's going to hurt us because he's probably our best player out there right now, leading me and Guptill out on that line, but we're fine," Brown said. "We've got enough depth in this lineup where we'll pick up where we left off.
"Jeff's been playing with us the past couple of days, and he's been filling that role just fine. If that's what it's going to take, then Jeff's going to help us out, or whoever it is," Brown added.
Guptill agreed.
"Obviously we're hoping Dave's going to come back," Guptil said. "Anyone who steps into that role is a good hockey player is going to be able to take the position and play it well I think."
Contact Pete Cunningham at petercunningham@annarbor.com or by phone at 734-623-2561. Follow him on Twitter @petcunningham.