Posted on
Wed, Mar 7, 2012 : 12:31 p.m.
Michigan hockey team to face 'desperate' Notre Dame in CCHA playoffs
By Pete Cunningham
University of Michigan fans found themselves in a tough spot on Sunday afternoon. In order for the basketball team to win its first share of a Big Ten championship since 1986, Ohio State had to beat Michigan State.
It made all Michigan fans Buckeyes supporters by default.
It wasn't so hard for Michigan goaltender Shawn Hunwick, who said he's been a fan of the basketball team since the days of Robert "Tractor" Traylor.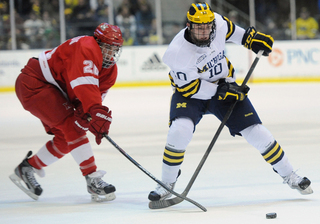 Angela J. Cesere | AnnArbor.com
"For us the (Ohio State) rivalry's not really there as much," Hunwick said, listing Michigan State, Miami and Notre Dame as the
Michigan hockey
team's biggest rivals. "We've always been the past few years at each others throats."
"It's easy to root against Michigan State, though," Hunwick added. "You can quote me on that."
Will do.
It won't be Michigan State, but the Wolverines will face one of the other top rivals this weekend as Notre Dame visits Yost for the quarterfinal round of the CCHA playoffs in a best-of-three series that starts Friday (7:35 p.m.)
While No. 2 seed Michigan enjoyed a first-round bye last weekend as No. 8 seed Notre Dame swept Ohio State to advance, no one on the Michigan team is looking at the series as an easy top-seed versus bottom feeder matchup.
With Notre Dame at No. 18 in the PairWise Rankings, there is an added element of desperation on the part of the Fighting Irish, who likely would be left out of the NCAA tournament if they lose this weekend.
"It's going to be really physical, it's going to be fast, goalies are going to be on their game. Everyone's just going to be going hard," said Michigan forward Chris Brown.
Two years ago it was Michigan that needed a deep CCHA playoff run to keep its NCAA tournament hopes alive. Brown recalls being energized by the desperation, and he expects the same from Notre Dame.
"Having that desperation helped us freshman year," Brown said. "Notre Dame's going to come in with that same desperation, and we have to match it."
Michigan split with Notre Dame in South Bend during the regular season in games that had the physicality normally associated with playoff hockey. Several players expressed relief to have an off week following the series. Freshman forward Alex Guptill went as far as calling the way Notre Dame played in the series "dirty" at the time and he wasn't alone.
Guptill has since backed off the comments, but the fact that he or any other player would come out and say as much — such feelings are normally kept in house — shows how intense the rivalry can get.
"It was just a real emotional series. ... You go through games like that and you're kind of a little bit pissed after," Guptill said. "It will be a battle, we'll see. It'll be a fun series."
Michigan has advanced to 23 consecutive CCHA semifinals. Michigan coach Red Berenson said he likes the fact that the bid for 24 straight begins with a high-quality, rivalry opponent.
"This is the playoff challenge you're going to get, whether you get it now or get it later," Berenson said. "This time of year, everyone's good. ... I think this is what we've been waiting for."
"It's going to be a good test for us to start out, especially in the first round. Hopefully it will give us a spark if we win," Brown said.
Download the CCHA tournament bracket: CCHA Tournament.pdf
Pete Cunningham can be reached at petercunningham@annarbor.com or by phone at 734-623-2561. Follow him on Twitter @petcunningham.