Posted on
Wed, Feb 8, 2012 : 6:46 p.m.
Michigan hockey team to play in outdoor GLI? Wait and see, says Red Berenson
By Pete Cunningham
Will the Michigan hockey team play in the 48th annual Great Lakes Invitational next season?
Without a doubt.
Will the tournament be played outdoors at Comerica Park in Detroit, as many have speculated over the past several weeks?
Michigan coach Red Berenson says he's still waiting to find out.
He suggests we all do the same.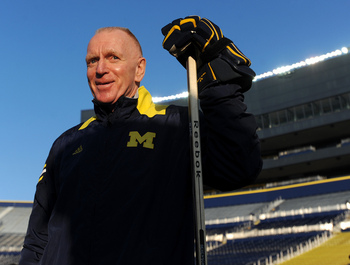 AnnArbor.com file photo
The University of Michigan Board of Regents agreed to lease Michigan Stadium to the National Hockey League for the 2013 Winter Classic on Wednesday, and shortly thereafter the NHL issued a press release announcing Thursday press conferences regarding special events at Comerica Park and Michigan Stadium.
An NHL source told MLive.com's Detroit Red Wings beat writer Ansar Khan that a second rink will be constructed at Comerica Park to appease Red Wings owner Mike Ilitch, who will lose the high-profile event between the Red Wings and Toronto Maple Leafs to the Ann Arbor campus site.
The source said Comerica Park will host an AHL game between the Grand Rapids Griffins and Toronto Marlies, the minor league affiliates of the Red Wings and Maple Leafs; as well as the GLI (which annually includes Michigan, Michigan State and Michigan Tech) and other juniors, high school and youth games. A Red Wings-Maple Leafs alumni game is another possibility.
Berenson insists any speculation on his part would be premature.
"I don't know how far we should go into this because it really hasn't been announced yet," he said. "I'd feel stupid if I said, 'Jeez, I think it'd be good' and then tomorrow they come out said, 'No, we're going to do it in Joe Louis (Arena)' or whatever."
"You don't want to waste your time talking about it because it really isn't factual until we hear it from somebody's horse's mouth."
The NHL is scheduled to make its announcement at Comerica Park at 10:30 a.m. and at Michigan Stadium at 1:15 p.m. on Thursday.
"I can tell you it was discussed as to whether it could be a possibility. We don't host it, so it's not our (call)," Berenson said. "I've agreed that if they want to have it outside that we'll be a willing participant."
Officials with GLI host Michigan Tech confirmed they will continue to be the host and that Michigan and Michigan State would be two of the other three teams participating. The fourth team will be announced on Thursday.
Michigan has participated in outdoor games in each of the past three seasons, including last year's Big Chill at the Big House that drew 104,173 fans, a Guiness World Record for attendance at a hockey game.
Michigan athletic director Dave Brandon said Wednesday that "the NHL is hell bent to break the record that we set."
Despite playing in many large outdoor games -- including the Frozen Diamond Faceoff earlier this season at Progressive Field in Cleveland -- Michigan players are still excited by the possibility of playing in another.
"Now there's a lot more of them, so they're not quite as special as past years. But I think, at least from a player's perspective, it's really something we look forward to," said sophomore forward Luke Moffatt. "Something to really bring the old school classic pond hockey feel back to the game."
Contact Pete Cunningham at petercunningham@annarbor.com or by phone at 734-623-2561. Follow him on Twitter @petcunningham.