Posted on
Mon, Mar 19, 2012 : 9:04 p.m.
Michigan hockey team's overtime experience could come in handy in NCAA tournament
By Pete Cunningham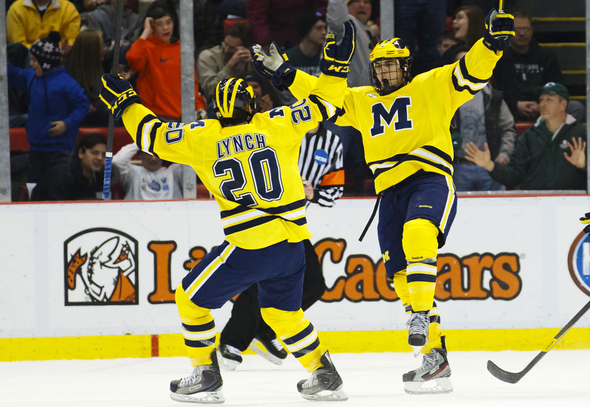 AP Photo
After a Bowling Green turnover in double overtime on Friday night, A.J. Treais found himself with the puck on his stick in the Falcons' zone.
Treais had an open shooting lane, but Bowling Green goalie Andrew Hammond was in perfect position. Instead of trying to beat the red-hot Hammond, who already had 54 saves on the night, Treais skated away from the goal, took on two defenders, then came back toward Hammond -- by then, well out of position -- and put a pass in front of the net for his on-rushing teammates who finished the game.
The win kept the Michigan hockey unbeaten (6-0-4) in games decided in overtime. If the past is any indication of what the future holds, that type of experience and patience after 60 minutes of hockey will be needed in the upcoming NCAA tournament.
Michigan has played in four overtime games in the NCAA tournament in the past four years, and in three of the last four years, had its season end in an extra session.
All three of Michigan's national championship game appearances under coach Red Berenson have gone into overtime, with wins in 1996 and 1998 and a loss to Minnesota-Duluth in last year's final.
Michigan goalie Shawn Hunwick joked that he hoped reporters asking about the team's success in overtime wouldn't jinx the team's overtime fortunes.
He knows they'll need it.
"Playing in those two overtime games the past two weekends have been huge for our team," Hunwick said, in reference to Michigan's double overtime win over Notre Dame in the CCHA quarterfinals. "I think our guys are really confident going into overtime that we can pull it off."
Treais said shooting or passing the puck too early is something he notices players do in tense situations, like when the game is on the line in overtime. If his play on Friday is any indication of the Wolverines' nerves after regulation, Michigan should bode well in sudden death situations.
"Being patient with the puck is something you need to have," Treais said. "Those are big moments and those are experiences that you want to grow on the rest of the year…We have a lot of experience in overtime, so I think that helps us."
Michigan isn't the only team in the Midwest Region with overtime experience. Denver and Cornell each played 12 overtime games this season and were 6-1-6 and 3-2-7, respectively. Ferris State didn't win a single one of its seven overtime games, with an 0-2-5 mark on the season.
The Wolverines are, however, the only team among the four not to lose in overtime.
"We're comfortable in overtime and experience and the confidence level is good," Berenson said.
Contact Pete Cunningham at petercunningham@annarbor.com. Follow him on Twitter @petcunningham.